Papa Vinyard here, now here's a little somethin' for ya...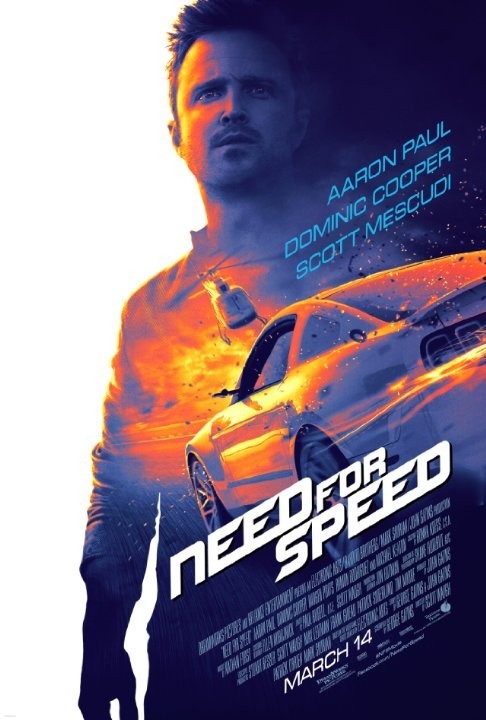 Above is the official theatrical one-sheet for ACT OF VALOR director Scott Waugh's upcoming video game adaptation, NEED FOR SPEED. It's a nice, somewhat minimalist number that highlights all the major selling points of the film: specifically, car chases, explosions, and the presence of Aaron Paul in a leading role. I could do without the orange tint on Paul's face, but that's just nitpicking. I'm impressed with the decision to sell this as his movie, and not merely as another FAST & FURIOUS cash-in using a video game property to justify its existence.
Although, I can't, for the life of me, imagine why they didn't want to throw Michael Keaton's name on the poster right there alongside Paul, Dominic Cooper, and Kid Cudi's (going by Scott Mescudi here). If his name was alluring enough to make it on the ROBOCOP one-sheet, why wouldn't it help the legitimacy of this flick, which lacks the supporting cast pedigree of Samuel L. Jackson, Gary Oldman, Jackie Earle Haley, Jay Baruchel, and Abbie Cornish (not to mention the level of property recognition)? If nothing else, it would put the film on the radar of older (probably male) audiences, who could care less about video games or about that beanie-wearing kid from BREAKING BAD (even with his multiple Emmy wins). But alas…
Feel the NEED FOR SPEED on March 14th, 2014.
-Vincent Zahedi
"Papa Vinyard"
vincentzahedi@gmail.com
Follow Me On Twitter