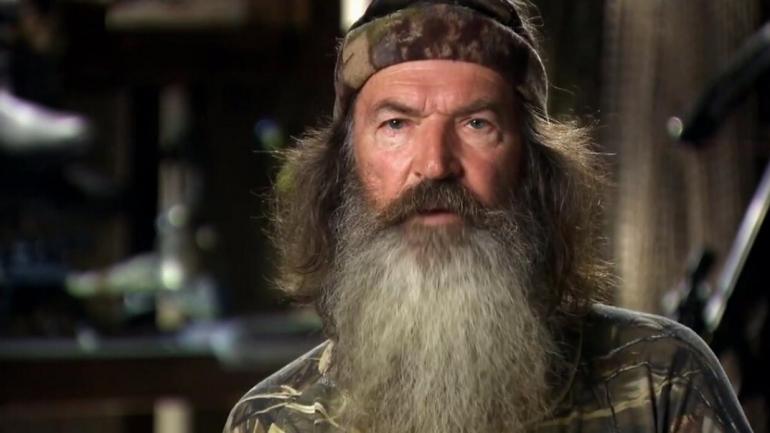 No.
If you've been cowering under a rock this week, know that geezerly Louisiana "Duck Dynasty" star Phil Robertson told GQ Magazine he considers homosexuality a sin and that he never saw an unhappy African-American before the civil rights movement.
A&E "suspended" Robertson from "Duck Dynasty," the channel revealed.
"We have had a successful working relationship with A&E but, as a family, we cannot imagine the show going forward without our patriarch [Phil Robertson] at the helm," reads a subsequent post from the "Duck Dynasty" stars on the DuckCommander.com website. "We are in discussions with A&E to see what that means for the future of Duck Dynasty."
What this means for the future of "Duck Dynasty," I suspect, is that Phil Robertson's suspension will last 72 hours and as a result Phil Robertson will ABSOLUTELY NOT be featured in the first seven minutes of the next "Duck Dynasty" episode shot for A&E.
That should learn him.
A&E pays the Robertson Family $200,000 per episode.
"Duck Dynasty's" Dec. 11 holiday special tied a new episode of "Modern Family" as the top rated show that Wednesday:
Wednesdays, Oct. 23-Dec. 11, 2013
(adults 18-49; older weeks in parentheses; repeats in gray)
3.5 (---) (---) (---) (---) (---) (---) (3.5) Duck Dynasty
3.5 (3.2) (1.3) (3.4) (3.8) (---) (2.2) (3.9) Modern Family
2.5 (2.6) (2.2) (2.5) (2.5) (2.5) (2.3) (2.4) Survivor
2.4 (1.7) (2.4) (2.8) (2.7) (2.4) (2.4) (2.7) Criminal Minds
2.1 (2.2) (---) (2.2) (2.3) (2.2) (2.0) (2.1) American Horror
2.0 (1.9) (1.0) (2.3) (2.4) (---) (2.2) (2.2) The Middle
1.8 (1.5) (2.0) (2.1) (1.9) (1.7) (1.7) (2.1) CSI
1.8 (---) (---) (---) (---) (---) (---) (---) The Sing-Off
1.8 (1.6) (0.7) (1.8) (2.0) (---) (1.7) (2.1) Super Fun Night
1.5 (1.4) (---) (1.6) (1.8) (---) (1.7) (1.7) Back In The Game
1.4 (---) (---) (---) (---) (---) (---) (---) Kelly Clarkson
1.4 (1.6) (0.5) (1.6) (1.5) (---) (1.4) (1.6) Nashville
1.4 (1.4) (1.2) (1.7) (1.7) (1.5) (---) (---) X Factor
1.3 (1.5) (---) (1.5) (1.3) (1.5) (1.0) (1.0) South Park
1.1 (1.2) (---) (1.0) (1.2) (1.0) (0.8) (0.9) Arrow
0.9 (0.9) (---) (---) (0.8) (1.1) (0.7) (0.5) Key & Peele
0.9 (---) (---) (---) (---) (---) (---) (---) Rodeo Girls
0.8 (0.7) (---) (0.8) (0.8) (0.7) (0.6) (0.7) The Daily Show
0.7 (---) (0.7) (1.0) (0.8) (1.0) (---) (0.5) NBA Basketball
0.5 (0.5) (---) (0.5) (0.5) (0.5) (0.7) (0.6) Colbert Report
0.5 (0.4) (---) (0.6) (0.4) (0.5) (0.5) (0.3) Conan
0.5 (0.6) (---) (0.6) (0.6) (0.6) (0.6) (0.7) Tomorrow People
0.5 (---) (---) (0.5) (0.5) (0.5) (0.4) (0.5) Top Chef
0.4 (0.6) (---) (---) (---) (---) (---) (---) Mob City