11:38 AM CST USA FRIDAY 20 DECEMBER 2013
A new Time of the Doctor clip from BBC America.
====================== ORIGINAL ARTICLE FOLLOWS ======================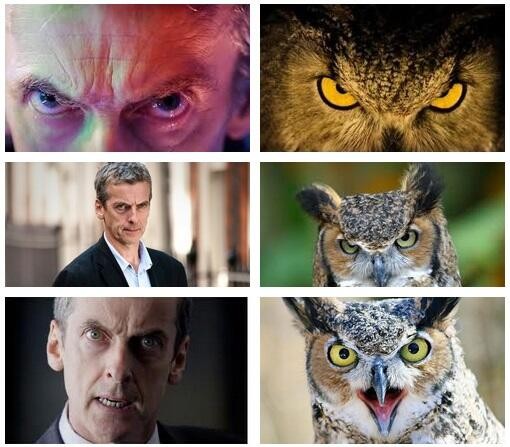 Glen here…
…with the final Docback before next Wednesday's transit of The Time of the Doctor - the final DOCTOR WHO episode featuring Matt Smith, and the first to feature Peter Capaldi in Smith's role. An episode-specific Docback will be opened for TotD on the morning of Tuesday December 24 - it's not looking like the show will be pre-screened Stateside, despite the occurrence of a theatrical screening overseas this week. Obviously, if this policy shifts between now and transmit time, I'll bring you some SPOILER FREE thoughts.
STRAX TALKS THE DOCTOR(S) IN A NEW VIDEO
THE LONG-RUNNING BLUE PETER SHOW HELD A CONTEST IN WHICH KIDS COULD DESIGN…
..Sonic Screwdrivers which will appear on upcomingepisode(s?) Here are the winners, by way of BBC.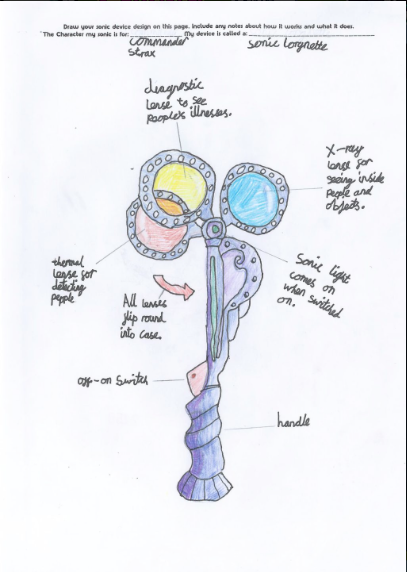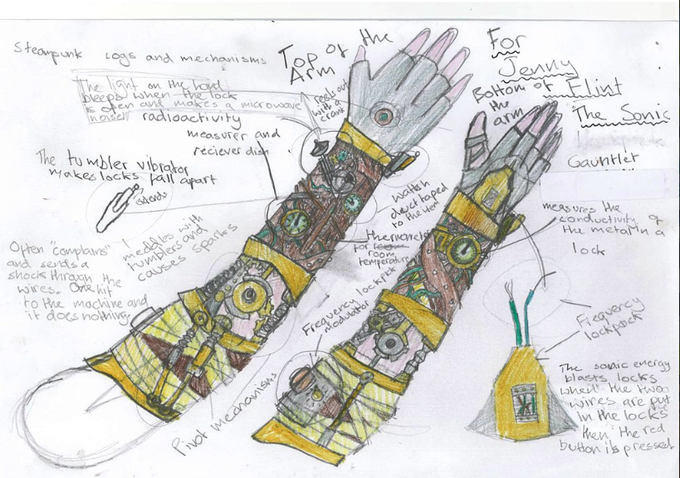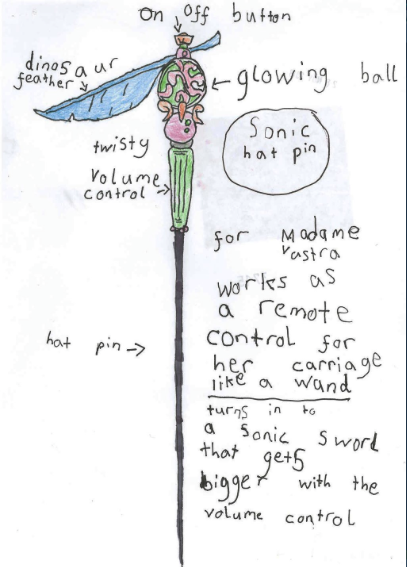 These, as well as some very nice runners up, can be found HERE. Love the gauntlet screwdriver - that's pretty badass looking, period. Might be really interesting if they made that the Doctor's actual screwdriver, although I'm betting they'll stay more traditional. All of these (including the runner up) are pretty great - so much imagination and talent.
PETER CAPALDI DID HIS FIRST FULL EPISODE READTHROUGH AS THE DOCTOR THIS WEEK
So says THIS Tweet from BBC. No further details offered. Oh, to have been a fly on that wall. Or just a bug of some sort - possibly even a roach.
THE MOONBASE DVD ART REVEALED
Cool art for the DVD which releasing January 20 in the UK (HERE) and February 12 here in the States (orderable HERE). The episode will include some animated segments to compensate for original material still MIA after the great BBC purge back in the day.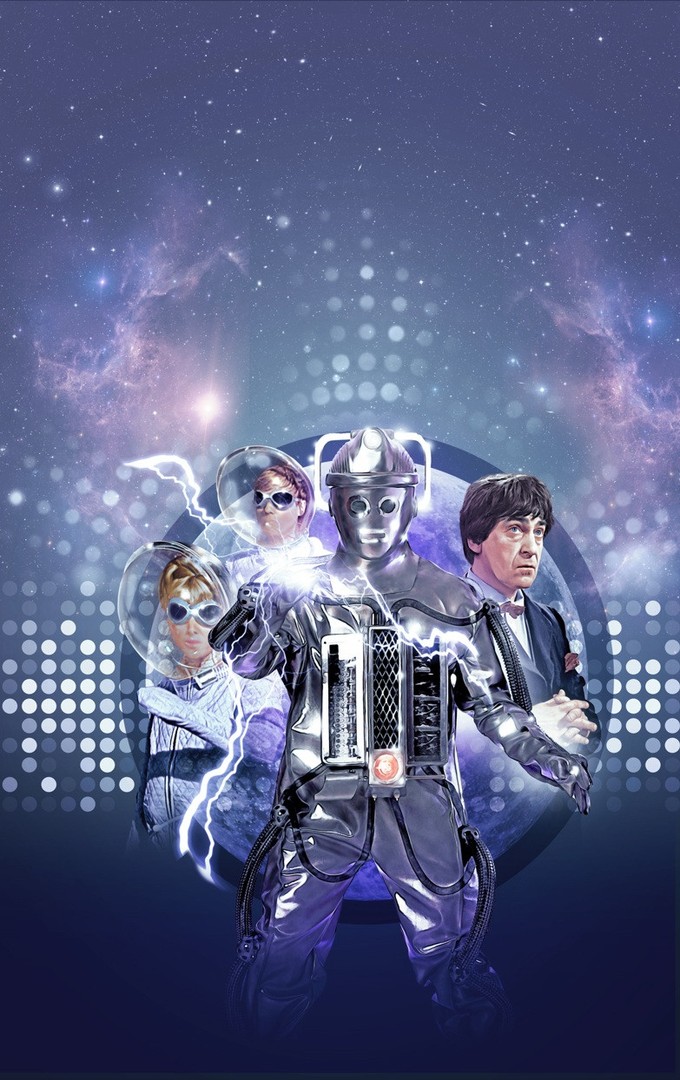 STEVEN MOFFAT TALKS REMEMBRANCE OF THE DALEKS (McCoy - Story #148
NEW TIME OF THE DOCTOR PROMO IMAGES FROM BBC AMERICA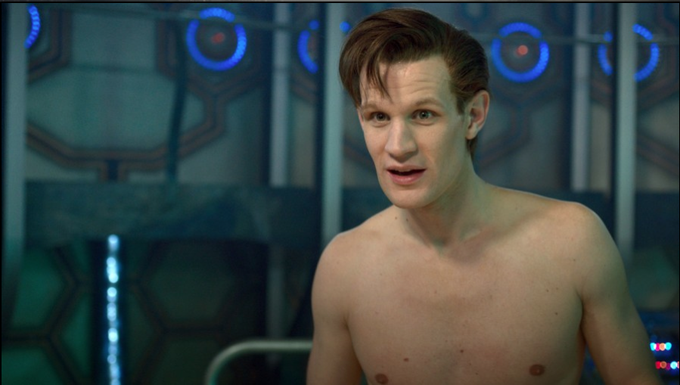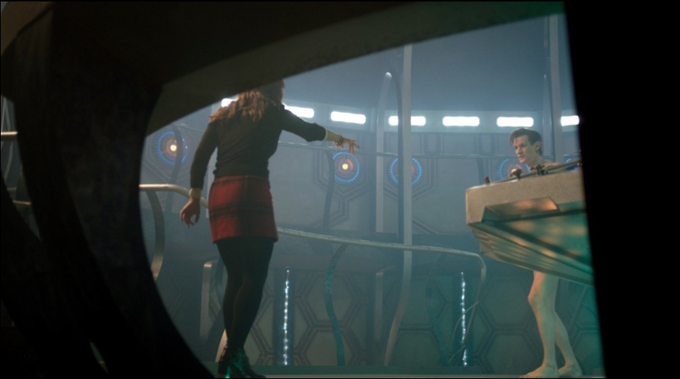 A NEW AND EXTENDED TIME OF THE DOCTOR TRAILER!!
THE TIME OF THE DOCTOR ANNOUNCED FOR RELEASE ON DVD AND BLU-RAY
The discs can be pre-ordered HERE in the US. Per a press release from BBC America…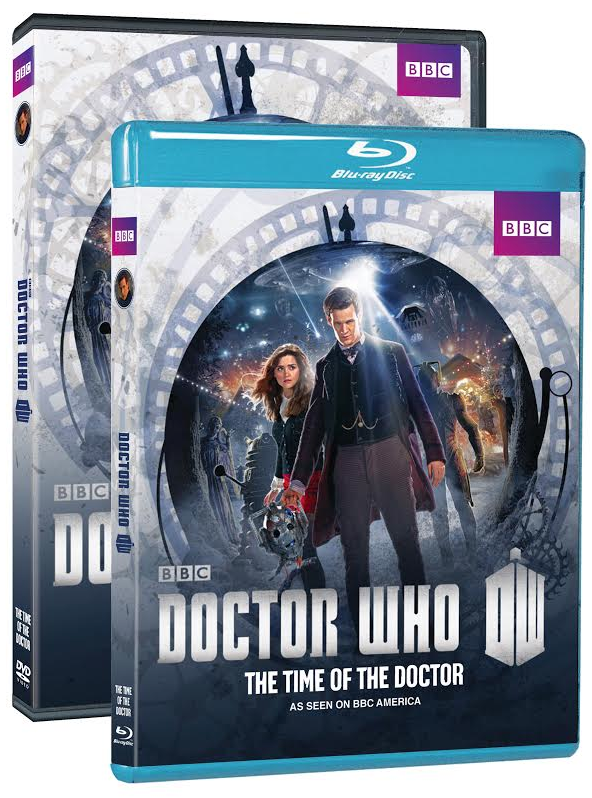 DOCTOR WHO: THE TIME OF THE DOCTOR

Complete Your Eleventh Doctor Collection

The Final Appearance of Matt Smith as The Doctor

Street Date: March 4, 2014

Suggested Retail Price:

DVD $14.98 ($18.74 in Canada)

Blu-ray $19.98 ($24.98 in Canada)

Length: Approx. 60 mins + bonus material / single disc

New York – December 18, 2013 – BBC Home Entertainment announces Matt Smith's final appearance in Doctor Who: The Time of the Doctor coming to Blu-ray and DVD onMarch 4, 2014. With over 60 minutes of sensational bonus features including an hour long special celebrating Matt Smith's tenure as the Eleventh Doctor, this is a must-have for any Doctor Who fan's collection.

Bonus features include:

· "The Time of the Doctor – Behind the Lens" - It's Christmas! A time for peace and goodwill to all. But hang on, its Doctor Who, surely it can't be that simple? We take a peek behind the lens on this cracker of a Christmas special. The tinsel is out at the Oswald's and we meet a familiar enemy in a new form. The Doctor comes face to face with the enigmatic Tasha Lem and makes a new friend. With Matt Smith, Orla Brady, Jenna Coleman, Steven Moffat, Danny Hargreaves, Jack Hollington, Sheila Reid, James Buller and Elizabeth Rider.

· "Farewell to Matt Smith" - Narrated by Alex Kingston (River Song), This compelling, hour-long special looks back at Matt Smith's extraordinary tenure as the Eleventh Doctor, featuring highlights from the show and copious interview footage with Matt, his cast-mates, writers, producers, guest stars and celebrity Doctor Who fans.

· "Tales from the TARDIS" - A look back at the full, 50-year history of this iconic series. Eleventh Doctor Matt Smith and past Doctors David Tennant, Sylvester McCoy, Colin Baker, Peter Davison and Tom Baker tell what it was like to be the Doctor, how they got the job and how it changed their lives. With companions Jenna Coleman, Karen Gillan, Arthur Darvill, and more, this truly insightful special offers a unique insight into the world's longest running sci-fi series.

Orbiting a quiet backwater planet, the massed forces of the universe's deadliest species gather, drawn to a mysterious message that echoes out to the stars. And among them - the Doctor. Rescuing Clara from a family Christmas dinner, the Time Lord and his best friend must learn what this enigmatic signal means for his own fate and that of the universe. Orla Brady (Fringe, Mistresses) guest stars as Tasha Lem.

Lead writer and executive producer Steve Moffat commented: "It's his final battle and he's been fighting it for a while. The Doctor is facing the joint challenge of a mysterious event in space that has summoned lots of aliens to one place and helping Clara cook Christmas dinner. There are also elements from every series of Matt's Doctor, which will come to a head in this special. Things that we've laid down for years are going to be paid off. "

Doctor Who: The Time of the Doctor premieres Wednesday, December 25 on BBC AMERICA at 9:00pm ET in the US and on SPACE at 8:00pm ET in Canada.
A FEW QUICK THOUGHTS ON THE DAY OF THE DOCTOR 3D BLU-RAY
A more proper review of The Day of the Doctor is forthcoming (as a tease - suffice to say my response to the story will not be wildly enthusiastic, nor entirely negative), but I did want to call your attention to the 3D Blu-ray which was recently issued.
I'm not a proponent of 3D in general - if find it gimmicky, improperly utilized, and a crass and sometimes physically uncomfortable means for studios and networks to pull down more cash (by attaching an up charge to partake in the process). And, often, I find that the distraction of clumsily deployed 3D actually impeded's one's appreciation of of a film or TV show.
This said…
The 3D OPTION (the Blu-ray's menu gives on the option to present the show in regular, non-3D format) on the recently released Day of the Doctor 50th Anniversary megasode - is rather damn good. The image quality on this disc is exceptional across the board, actually - whether 3D or standard. The 3D is crisp and offers previous little artifacting or distortion throughout - depth and nuance are evident even in the episode's more sedate movements. The Powers That Be on the show…used 3D wisely here, and often to strong and even enhancing effect. Kudos to helmer Nick Hurran (who previously helmed SmithWHO entries The Girl Who Waited and The Angels Take Manhattan) and cinematographer Neville Kidd (The Name of the Doctor and The Angels Take Manhattan) for puling this off, especially within what was almost certainly a challenging…if not restrictive…time frame and budget. Well played sirs.
The release features nice HD (NOT 3D) versions of The Day of the Doctor preambles The Night of the Doctor (chronicling Paul McGann's Eighth Doctor regeneration into John Hurt's "War Doctor") and The Last Day (the minisode set on Gallifrey —> leading into Dalek attack). BBC America's DOCTOR WHO EXPLAINED (45 minutes without commercials) is also included, along with DotD's San Diego Comic Con trailer, and a nice, HD version of The Day of the Doctor teaser we saw a month or two ago.
The Day of the Doctor is now available HERE in the US and HERE in UK. More on the adventure soon.
For now…we await…Capaldi!
——————
Glen Oliver
"Merrick"
- e-mail
- Twitter
- Google +
[[[[[ A LIST OF PREVIOUS DOCBACKS CAN BE FOUND HERE!! ]]]]]
DOCBACK CODE OF CONDUCT
1) a Docback should be about completely open and free discourse regarding all things WHO with, obviously, some variation on subject matter from time to time - the real world intervenes, discussions of other shows are inevitable, etc.)...
2) matters of SPOILAGE should be handled with thoughtful consideration and sensitivity. Posts containing SPOILERS should clearly state that a SPOILER exists in its topic/headline and should never state the spoiler itself . "** SPOILER ** Regarding Clara" is OK, for example. "** SPOILER about that Motorcycle" is fine. **SPOILER** Why did everyone die?" Is NOT good.
And, above all...
3) converse, agree, disagree, and question as much as you want - but the freedom to do so is NOT a license to be rude, crass, disrespectful, or uncivilized in any way. Not remaining courteous and civil, as well as TROLLING or undertaking sensational efforts to ignite controversy, will result in banning. Lack of courtesy may receive one (1) warning before a ban is instigated. Obvious Trolling or Spamming will result in summary banning with no warning. One word posts intended to bump-up any Docback's figures on AICN's "Top Talkbacks" sidebar will be considered actionable Spam - they not only complicate efforts to access Docback from mobile devices, but impede readers' abilities to follow or engage in flowing conversation.
In short, it's easy. Be excellent to each other. Now party on..