"Monty Cristo" here once again.
My BNAT15 adventure resulted in my spending almost all of the last couple weeks sick. I planned for this to be up the day after BNAT, but I've been useless for a while on all fronts.
ENLISTED Preview Screening (presented by ATX Television Festival)
Often, there will be some sort of "night before" screening of a movie. This year, long-time BNAT attendee Kevin Biegel organized a last-minute screening of three episodes of his new Fox show ENLISTED. Most of the principal cast (Geoff Stults, Angelique Cabral, and Parker Young) joined us at the insanely-far-south Alamo Drafthouse Slaughter Lane on a bitterly cold night. Caps and water pouches were given out, and a round of drinks was bought for the audience.
I saw the pilot at this year's ATX Television Festival almost half a year ago. Since then, they've wrapped the entire first season, which begins airing in January. Kevin is a friend, so consider that bias exposed, but take into account that if I had nothing nice to say, I wouldn't be saying anything, and much to my chagrin, Kevin has not yet bought me a luxury car in exchange for positive opinions of his work.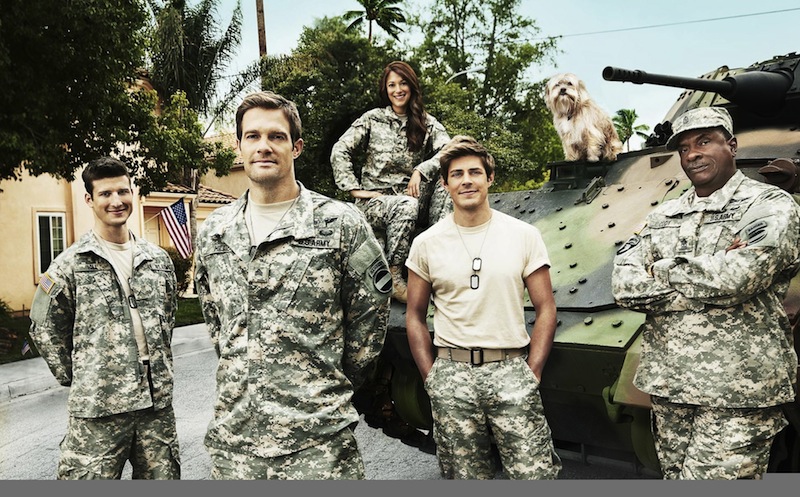 The heart of ENLISTED is the fraternal bond between three brothers played by Geoff Stults, Chris Lowell, and Parker Young. Stults plays the eldest brother, a "super soldier" stationed on the front lines who gets sent back to serve at home for insubordination. As madcap as the pilot gets, the payoff is in the emotional payoff of the three re-forging their bond and at the same time serving good people who need the support. Keith David, a well-known Marine veteran, is a great ace in the hole, and he fits perfectly here. Angelique Cabral presents a nice Wonder Woman counterpoint to Stults' Superman: strong, complex, and anything but paper-thin. The supporting cast who make up the platoon are all great, and I look forward to the show getting to highlight each of them as the show grows.
Initially, the show was pitched to audiences (based on the pilot) as something of a cross between STRIPES and ANIMAL HOUSE. While the humor's pace and style in the pilot is similar to those movies, what follows is decidedly more like SCRUBS on an Army Rear Detachment base. Months and months and a good deal of refinement occurred between the taping of the pilot and the episodes that followed, and it really shows. What I love about the show is how authentic the family bond got between the three brothers so quickly in the pilot. Parker Young is possibly the most earnest, enthusiastic person on the planet both in real life and in the show. Similarly, the rest of the cast bleeds themselves into the characters that they'll hopefully be playing for at least "six seasons and a movie", to quote the social media campaign of another show I like very much.
According to the post-show Q&A, the actors got put through the ringer at El Paso's Fort Bliss, and military advisors came into the picture. The heart and sentimentality in the pilot is more pronounced in subsequent episodes, and I think it's a shame that FOX isn't marketing the show with that so much as nothing but "crazy crazy, zany zany" as seen in the TV ads. Were the US military not so reluctant to endorse or support productions after feeling burned on ZERO DARK THIRTY, it would have been great for military families to get to see a pile of episodes on bases at events that I'm sure the producers of the show (creator Kevin Biegel included) would love to do. If you read this site and can help get the show some traction either at a specific base or branch-wide, I recommend you hit Kevin up on Twitter.
BNAT: The Bags and Bag Stuffing
The next morning, the annual tradition of bag stuffing occurred with some major, notable upgrades.
We usually do all of this on the porch of Alamo South Lamar, often at a very cold hour of the morning so as to not interfere with the operation of the theater during the day. Since it's still mostly surrounded by a giant hole in the ground on top of how we were going to be at Ritz, we had nowhere to stuff the bags. Regardless of how anyone feels about Harry's Kickstartered YouTube show, the set of said show made for an ideal indoor, heated, and comfortable setting to stuff bags and eat.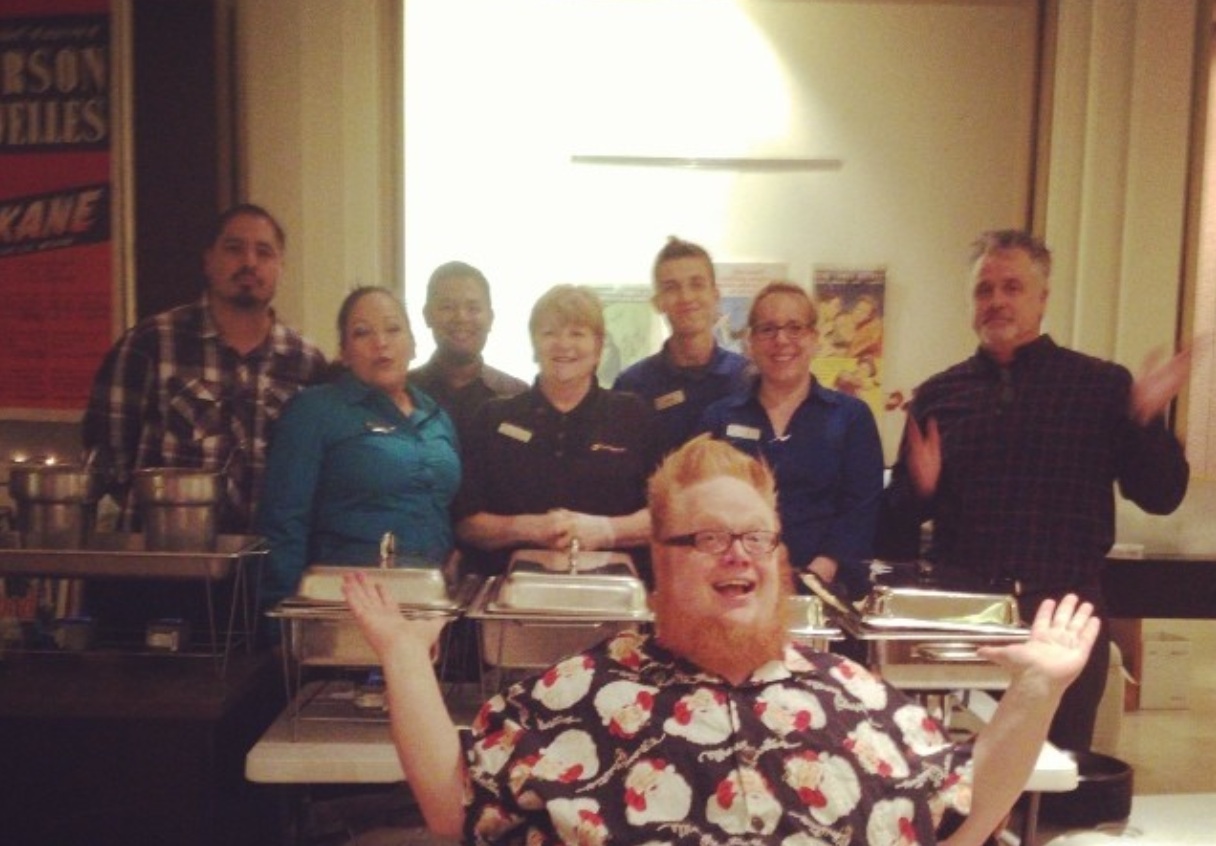 That was the other notable change in a big way. In past years, we hadn't really thought to seek out catering for bag stuffing, since "one more thing to deal with" is never good at that stage of the lead-up to BNAT. In my pre-BNAT call for bag goodies, I included a mention of anyone wanting to buy breakfast tacos on the off-chance something relatively easy were possible. Lucky for us, no less than the CEO of Taco Bueno got in touch and had the whole thing catered, complete with beef and chicken fajitas, tamales, refried black beans, rice, guac and other trimmings. For dessert, we had three-bite—sized cheesecake chimichangas. There was time to socialize, look at Harry's ridiculous vintage poster collection on display, eat a hearty meal, and relax a bit. Did I mention we were indoors for once?
Here's a photo dump with captions looking at the great pile of swag we got this year. It wasn't cheap for any of these folks to send us what they contributed, so do them a favor and give them some business: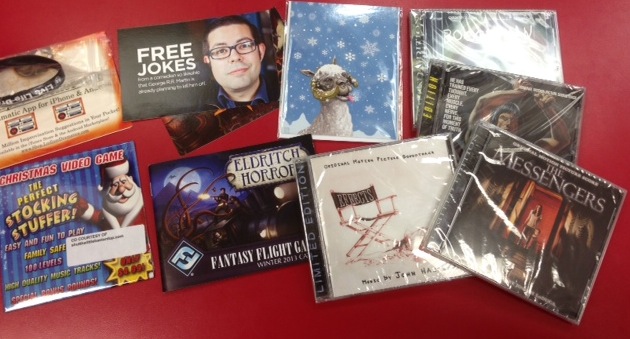 A pile of score CDs from the great people at La-La-Land Records, Fantasy Flight Games catalog (they provided a pile of games, including GAME OF THRONES and others,snagged by others), album download card from comedian Mike Cody, a FREE game called SHUT THE LITTLE BASTARD UP (which you can get here), and finally, a great geeky Christmas card from PJ McQuade's Etsy store. More card designs can be seen below, and even though anyone who does Christmas cards probably sorted them out a month ago, there's a TON of other great stuff in PJ's store, including items from across geekdom, from Star Trek to Star Wars to Brigitte Bardot to Jaws to Metroid to Lovecraft and beyond. PJ does great work, and probably accepts commissions...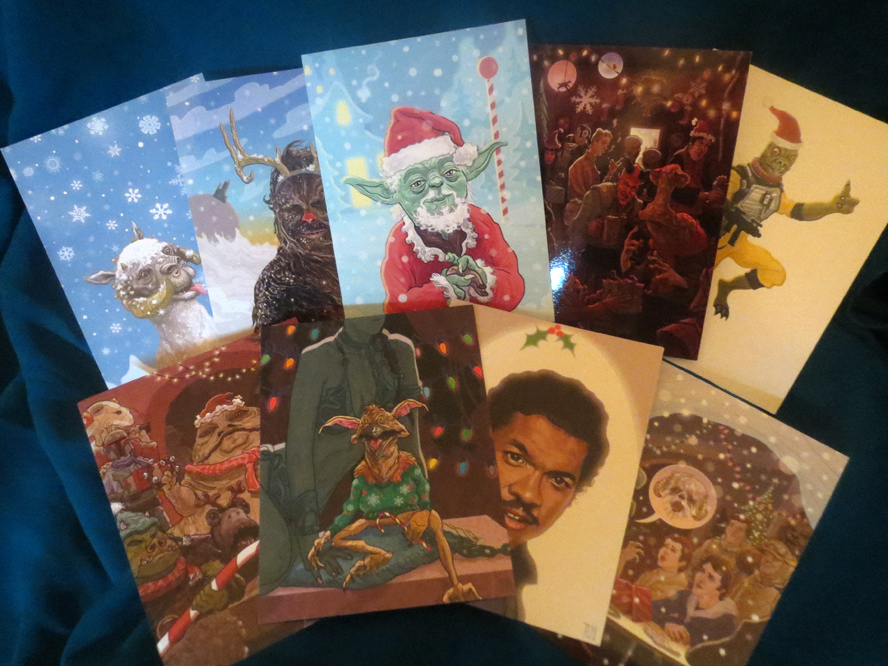 BOOKS: This year saw V WARS from IDW Publishing, WALKING YOUR OCTOPUS from Baby Tattoo Books, and PROMBIES by indie author D.K. Smith.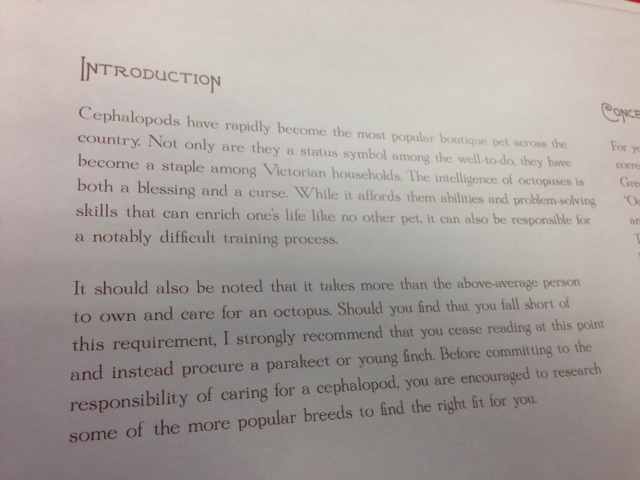 WALKING YOUR OCTOPUS in particular is a great look at the unique content that Baby Tattoo publishes. They've been good enough to contribute art books to the bags for a few years, and if you're looking for a unique "How to..." sort of storybook for gifting that's unique and geeky with a heaping spoonful of steampunk, this is a great bet. The illustration work is beautiful and fun, full of character.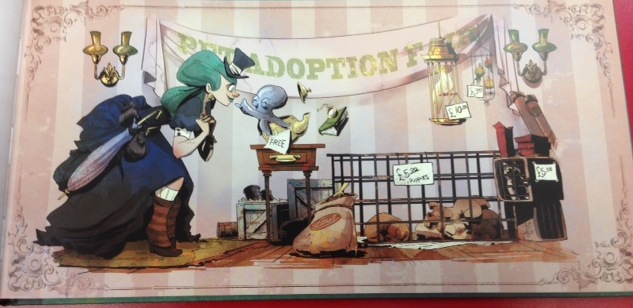 "How much is that cephalopod in the window? The one with the writhing tentacles?" paraphrasing mine.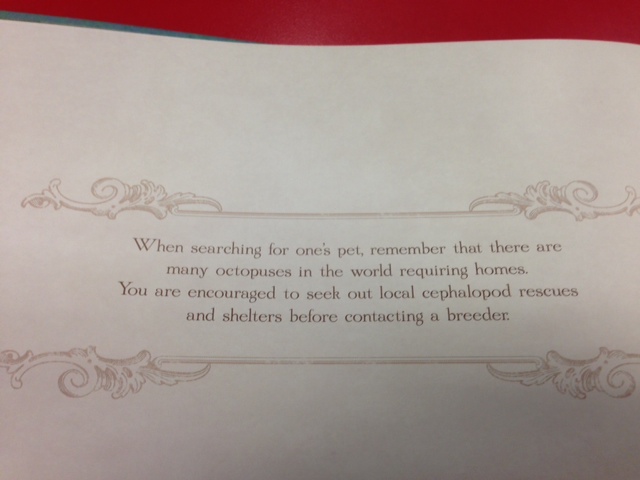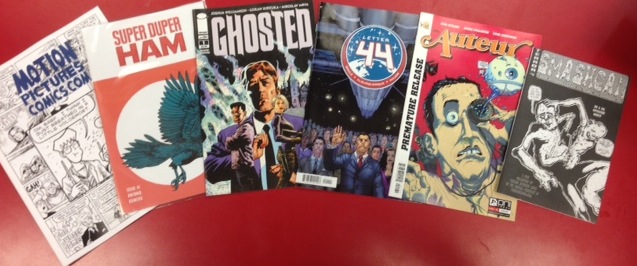 COMICS: Hit Image indie comic GHOSTED by Joshua Williamson (supernatural heist), Oni Press' LETTER 44 by rapidly rising star Charles Soule (politics and aliens) and THE AUTEUR (more on it in a sec), full on independent issues from MotionPicturesComics.com, Super Duper Ham, and an ashcan from Dallas/Ft Worth's Terror Comics. Of the "indie label" comics, THE AUTEUR is the one I hadn't encountered yet, and it's insane. It starts as the story of a producer recovering form the biggest flop in Hollywood history and gets really weird (in the best ways). GHOSTED and LETTER 44 are two of my favorite series of 2013, bar none.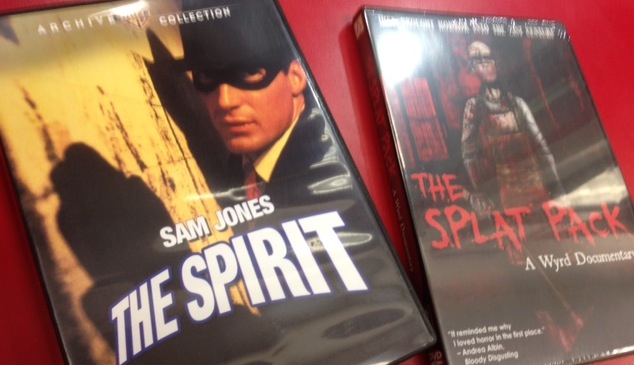 A great pair of DVDs throughout the bags, where most of the audience ended up with one out of a VERY broad array of Warner Archive Collection DVDs (and an order discount code), and everyone went home with "new generation" horror doc THE SPLAT PACK, which features an interview with some guy named Harry Knowles in addition to horror directors like BNAT15 attendee/filmmaker-in-attendance Adam Green. Someone went home with the failed 1987 TV pilot for Will Eisner's THE SPIRIT that stars Sam Jones (FLASH GORDON), Phillip Baker Hall, and STAR TREK DS9's Nana Visitor! Some TV sets were in the mix of "WAC" movies, and some multi-multi movie sets too. I should mention that I've started an Archive/Manufacture-On-Demand-centric column called Archival over on my site that is getting a few additions later today.
BNAT 15: The Movies

1) THE WOLF OF WALL STREET

"Sell me this pen"

The movie can't still be embargoed since it's out today, but I haven't had time to cobble together a proper review at longer than capsule length,which I feel this one really demands. I was among many in the BNAT audience who would have been just fine seeing the movie once or twice again during the 26-hour marathon event. I think that it's reductive to directly compare the movie to GOODFELLAS, but I think people have done so mostly thanks to the first-person narration and fall from grace angle. More broadly, I'm convinced that the comparison comes because the themes and execution here echoing Scorsese and his team at their best, which most people know best from GOODFELLAS. There's a great deal of hard-sales culture permeating every minute of the movie, and if we want to throw comparisons to other movies, there are bits and elements that could be said to evoke everything from FEAR AND LOATHING IN LAS VEGAS to GLENGARRY GLEN ROSS.
The movie does not endorse or excuse the actions of the central characters, especially Jordan Belfort. I say this as a counter to what some detractors of the movie have written, and puzzingly so in my mind. Fundamentally, THE WOLF OF WALL STREET is about how the taste of blood blinds the predator to the carnage he causes. It's a masterful, hyper-energetic and inspired turn from a filmmaker and team (including the great Thelma Schoonmaker editing once again) at the peak of their abilities. DiCaprio has flashes of the fire seen in the eyes of James Cagney here, and is at his most present, precise, and downriight lethal. Jonah Hill steals the show with abandon, as people have said since the movie began screening. Minor conflict of interest disclaimer: my college theatre pal and colleague Henry Zebrowski plays a supporting role as "Sea Otter", and yes, it was a thrill to see a man I know is so talented really let loose.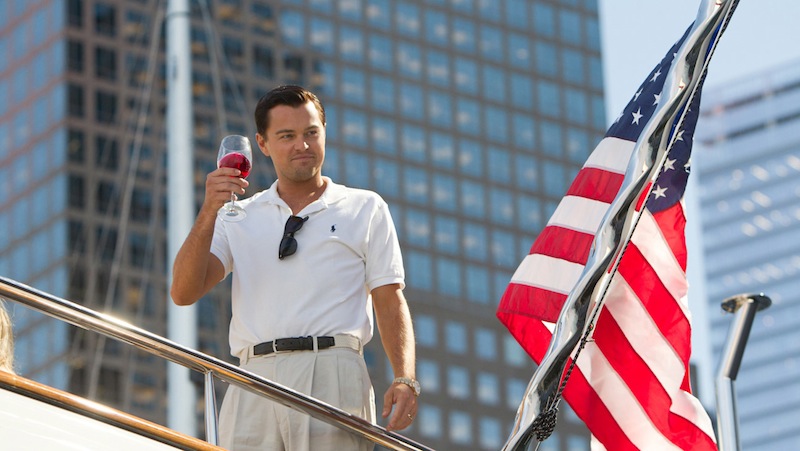 2) HARLEQUIN (aka DARK FORCES)

"Who's up for some strip poker?"

This bizarre Australian production was to have had David Bowie and Orson Welles in major roles, and an uneven script (whose first draft clocked in at 400 pages!) makes it one reason evident as to why they didn't end up taking the parts (aside from Welles' massive salary demands). The movie is a quickly shot, at times incoherent (sometimes delightfully so) retelling of the story of Rasputin and the Romanov royal family. The political family at the story's center hast last name "Rast", which is "Tsar" spelled backward. Clever, yes? A faith healer named Gregory appears out of nowhere and mysteriously heals the family's sick little boy…or does he? Or doesn't he? There is a healthy amount of misogynist content here, including a bored housewife just desperate for a man's fulfillment, and a rape sub-storyline that evaporates into seeming thin air. I might have dozed had it played later in the show.
3) THE HOBBIT: THE DESOLATION OF SMAUG

"I am barrel-rider"

This movie played for me like the middle batch of installments of a limited series rather more than as much as it did a standalone movie. Jackson framed the LOTR movies as serialized installments, but they played more readily as individual films since they represented three volumes of books. The disconnect I have with seeing these Hobbitings the same way is, as others have said, rooted in the fact this was the one book I read. It has been some time since I read it, but I was very much aware of the added content from the Appendices. In the space of this one movie, I can't be moved one way or another on the addition of Tauriel. On the one hand, was she necessary? I don't think we can say until we've seen the third movie, and what she does in the overall span of the narrative. Hobbit 2 is an installment of a serial, and not designed as an entirely self-contained thing. I think the HFR3D in the first movie worked brilliantly in some places, and decidedly less so when rabbit sled plowed across fields in open daylight. Whether or not one hates HFR or 3D, the fact stands that these Hobbit movies were composed for those two formats, and we saw this one in 24fps 2D. I think a universal move to HFR as the standard is a debate worthy of its own post, book, documentary series, and unending argument. The use of variable frame rates in movies is a middle ground that I think many would end up liking…since we've seen it throughout cinema history. I need to see this again in HFR, which is what I assume really makes the enormous coat of CG paint in the movie look best, and it's probably why a bunch of practical effects got "painted over", so to speak. I enjoyed the development given to Thorin, but I sure missed Bilbo a great deal. Like I said, feels more like an epic-scale miniseries playing out in theaters.

4) THE AGONY AND THE ECSTASY (70mm)
"When I am finished"

If not for the sake of being a Carol Reed (The Third Man) completist, the story of Michelangelo (Charleton Heston) painting the Sistine Chapel for Pope Julius II (Rex Harrison) is one of the great cinematic stories about artists and the artistic process, from the risks and rewards to the sacrifices and pitfalls. You don't need to be an Art History major to make it through the lengthy opening sequence that looks at various great works of art, even with the copious voiceover full of historical information. Agony and the Ecstasy is a patient, brilliant, gorgeous film from a more patient time, and it still plays exceptionally well in an environment where cell phones, tablets, and laptops are not even potential distractions. Disconnecting and experiencing something with strangers in the dark like this one is an exhilarating feeling that can only be found in the hallowed church of cinema. As an aside: "Battle Warrior Pope" Julius as played by Harrison could make the case that, as in Doctor Who, the Pope never dies, but is reincarnated in different forms, like a Time Lord.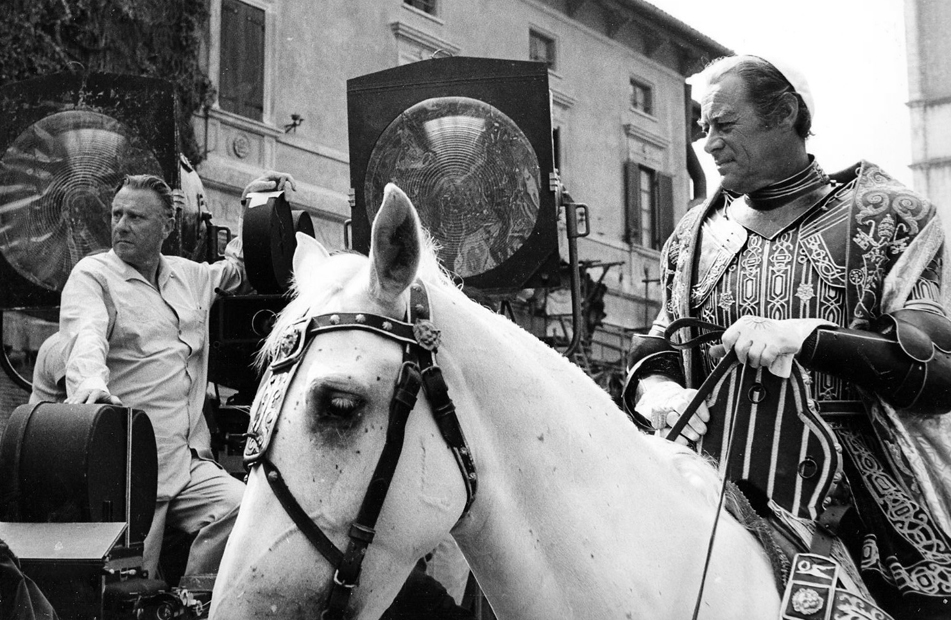 Behind the scenes B&W still on the set of THE AGONY AND THE ECSTASY

5) CHEATIN'
"[unintelligible murmur]"

Bill Plympton has a very specific visual style of animation that you recognize from a mile after you've seen it only once. Different than his previous features, the look here has a watercolor finish that adds something fresh while retaining the signature "Plymptoons" look. The story threaded throughout signature Plympton style, which follows diversions and dream or fantasy sequences of the subjects, is that of a guy and a girl and a misunderstanding that leads to infidelity, dangerous plotting, and science fiction. It premieres as the Opening Night Film at Slamdance in January.


6) POPEYE
"I yam what I yam"

I had seen most of this on over-the-air TV less than a week earlier, so I dozed a little, but I was awake for all of "He Needs Me", the best song and sequence in this exceptionally watchable, but at once un-engaging and bad movie.


7) THE DRAGON LIVES AGAIN
"Bruce Lee's Third Leg!"

Bruce Leong plays Bruce Lee in some version of purgatory in the afterlife, in what Alamo Drafthouse founder Tim League considers the second-greatest "Fake Bruce Lee Movie". Dubbed specifically for American audiences, it finds "Bruce" meeting a bunch of trademarked characters (Bond, The Godfather, Popeye, "The Exorcist", "Clint Eastwood", and others), I found it most entertaining that even though one of the "celebs" was clearly meant to be Zatoichi The Blind Swordsman, they only ever referred to the great warrior as "old man" and the like, since Americans would not have any idea who he was, by and large. You may not have known that Bruce Lee had a "Third Leg", but this movie will ake you believe that he did.


8) THE LOVES OF EDGAR ALLAN POE
"You will be a lawyer!"

A breezy "romanto-biopic" is like the darker, sadder, and much more tragic cousin of The Affairs of Dobie Gillis. What ultimately left me most lukewarm on the movie is that the true story went through something of a homogenizing sausage grinder and came out rather tame and generic, as specifically as it addressed the most significant relationships of his life. It's less worth going out of your way to watch than reading a biography of the great writer, whose real life was sadder and darker than the movie could have portrayed in its day. Paired with the later Vincent Price film in the BNAT lineup, it's much more like part of a big gothic meal.


9) DIGGING UP THE MARROW (Unfinished Workprint)
"Dont turn on the light!"

I admire Adam Green choosing to try something different, with very specific tenets regarding what he wanted to avoid falling into or allowing to happen with the (not) final product. Ray Wise's performance is up to the standard one expects from an actor of his caliber. Not only because they asked, but because the movie is unfinished, That's as much as I can say about this one.


10) Edgar Allan Poe's THE HAUNTED PALACE
"I'll not have my fill of revenge until this village is a graveyard"

This excellent Roger Corman-directed Vincent Price film owes more to Lovecraft than Poe (with the exception of the title). The story is actually based on The Case of Charles Dexter Ward by Lovecraft, with only bits of the poem by Poe with the title The Haunted Palace incorporated. The performance from Price is fantastic, first as a warlock named Joseph Curwen in the era of the Salem Witch Trials who is burned at the stake. With his dying words, he curses his home town of Arkham. For most of the film, Price plays that man's direct descendant Charles Dexter Ward, who just happens to look exactly like his ancestor and inherited the evil old sorcerer's big, creepy palace of a house. The spirit of said forebear comes to possess his great-great-grandson, and sets to work completing the work of many years before. The ceremonial sacrifice being attempted was meant to awaken something dark, ancient, and terrifying, and the movie as a whole is a wonderful example of what one means when they say something is "a Vincent Price movie". Supporting performances by no less than Debra Paget, Lon Chaney, Jr., and others really make this one of the most meaty, satisfying Price-starring features. The magnificent geniuses at Scream Factory's included it in their wonderful Vincent Price Collection Blu-ray boxed set.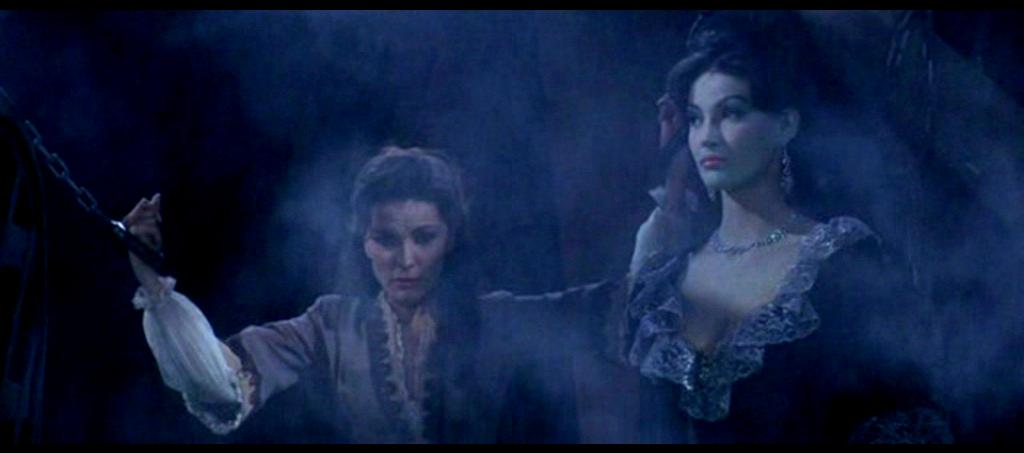 11) THE FRUIT IS SWELLING (aka WHEN A SWEET PEACH RIPENS)
"These are not toys for children"
I took the literal pinyin translation of the title and re-interpreted it beyond the US-centric title given it in Hong Kong above.

Tim League, king of bad taste as an art form, dropped a softcore Hong Kong gender-swapped remake of BIG on us as the next to last feature. It's awful and deplorable for the same gender politics reasons one would expect. One has to really try hard to explain themselves into a pocket universe to get to a place where it isn't psychologically troubling for the "moral" of this movie to be A-OK. A grown man "waiting" ten years for the child-like, helpless mind he prefers to physically mature to a point where she's "legal" is not sweet nor endearing. The direct implication is that the "hero" of the movie tires of his existing girlfriend because she's too easy, and greatly prefers the mind of an 8-year-old in the body of and 18-year-old.
To say that "well, she moved to Canada and probably became much more…worldly and learnèd" is assuming way, WAY too much subtext and nuance from a soft core porn movie designed to justify pedophiliac urges and justifications is capable of delivering. The main girl, "Peach", also has a father who is a textbook porn dad (played by "Elvis" Tsui), who is full of urges to screw anything with a vagina, no matter who he has to harangue or just plain rape These women all disappear after they've been used for the only thing they're transactionally worth using for: sex. The man is a rampaging sex abuse monster played as comic relief. He bangs whatever whenever, consequence free. Thematically, women in this movie are only defined by their sexual hunger or lack thereof, their eagerness to please men, and their roles as possessions.
None of the actresses, aside from intro/outro girl Shu Xi (The Transporter) lasted more than a few years longer in the 'industry'. The biggest surprise related to the movie is that Sex Monster Daddy Elvis Tsui plays a supporting role in Wong Kar-wai's The Grandmaster, of all things.

I didn't watch the whole thing, but you can right on YouTube in two parts, as discovered by a fellow BNAT attendee on Twitter.


12) THE WIND RISES

Miyazaki's "retirement" movie is tremendous, and I've written a lengthy chunk about a bizarre pseudo-controversy that has sprung up around it on my site.


BNAT 15 resoundingly un-cursed the Alamo Drafthouse Ritz, which was previously home to BNAT 9, one of the most bizarre and punishing line-ups ever. 15 delivered along a theme that doesn't require to much stretching, looking at the creative process: the making, un-making, pitfalls, challenges, and rewards of making something, making something happen, or changing the world.
BNATTERS, spread the word about the neat swag in your bags, and feel free to send writeups of the event to us on Twitter!
Moisés Chiullan / "Monty Cristo"
@moiseschiu
email
Arthouse Cowboy
Screen Time (movies/media) podcast
Giant Size (comics) podcast