A few weeks ago we learned that Bryan Singer - director of the first two X-MEN films and the upcoming X-MEN: DAYS OF FUTURE PAST - was coming back for the later film's follow-up, X-MEN APOCALYPSE. It's looking like late May 2016 will be the release date for this one.
Now comes word that Team Singer is already attacking the project in story sessions. Per THIS Tweet and photo from Singer, Michael Dougherty and Dan Harris look to be in the mix.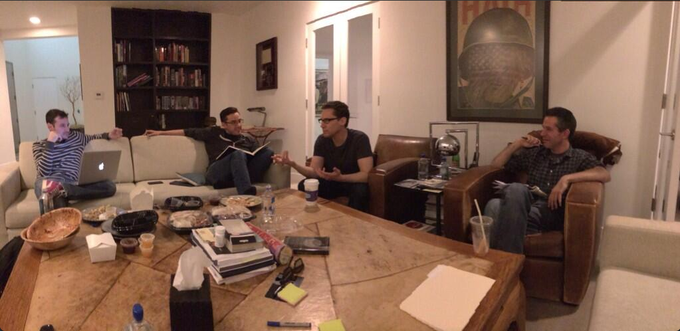 Dougherty and Harris scripted the second X-movie in 2003 and Singer's SUPERMAN RETURNS back in 2006. Also pictured with Singer is Simon Kinberg, a writer/producer on DAYS OF FUTURE PAST and a producer on APOCALYPSE. We recently learned that Kinberg's deal with Fox empowers him to potentially mix Fox-held elements of the Marvelverse, FANTASTIC FOUR and X-MEN for example (details HERE).
It should be noted that, even with the presence of so many experienced writers in one room, there's been no official word on who will actually handle scripting duties on APOCALYPSE…at least not that I'm aware of. If I had to bet, though, I'd anticipate a Dougherty / Harris script - with Kinberg macro-managing details in terms of franchise steerage, and Singer developing alongside on a project specific basis. Just a guess though.
Geeks may remember Dougherty for the popular TRICK 'R TREAT film he wrote directed in 2007 - whose sequel he'll soon return to write and helm.
——————
Glen Oliver
"Merrick"
- e-mail
- Twitter
- Google +