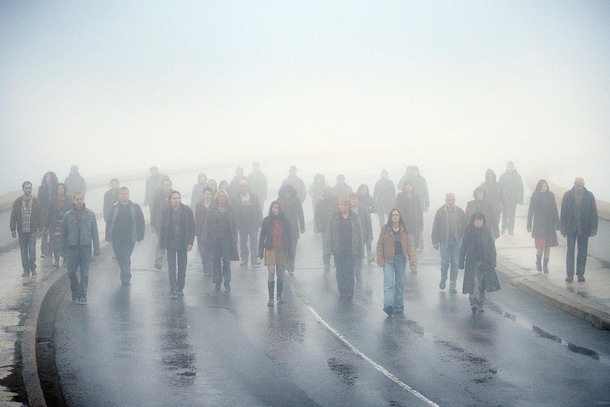 Sundance says of "The Horde," tonight's finale of Sundance's French zombie series "The Returned":
The relationship between living and the dead is now very strained. The living are scared of the dead, especially as a newer and more sinister wave of them arrive in the town.
"The Sing Off," the biggest thing on NBC last Thursday, beat Fox's "The X Factor" again.
"The Millers" continues to drain away much of "The Big Bang Theory's" massive audience before it can reach "Two and a Half Men" and "The Crazy Ones."
"Once Upon A Time in Wonderland," which premiered with a 1.7, hit another new personal low.
"Sean Saves The World" and "The Michael J. Fox Show" remain well below NBC's cancellation threshold. As I recall NBC ordered a 22 episodes of the Fox show last spring, so I guess it'll be sticking around a while.
Thursdays, Oct. 24-Dec. 12, 2013
(18-49 finals; repeats in grey; prior weeks in parentheses)
5.1 (4.8) (3.3) (5.3) (5.2) (4.9) (2.4) (5.2) Big Bang Theory
3.3 (1.7) (---) (2.9) (2.4) (2.4) (2.5) (1.8) NFL NFLN
3.2 (3.0) (---) (2.9) (2.9) (2.8) (2.9) (2.9) Scandal
2.7 (2.3) (---) (2.6) (2.6) (2.7) (2.6) (2.8) Grey's Anatomy
2.6 (2.4) (---) (2.8) (2.6) (2.6) (2.1) (2.7) The Millers
1.9 (2.1) (1.4) (2.2) (2.1) (2.1) (1.9) (2.3) The Crazy Ones
1.9 (2.3) (---) (2.1) (2.1) (2.0) (---) (2.3) 2½ Men
1.7 (1.8) (1.0) (1.8) (1.6) (1.8) (1.8) (1.8) Elementary
1.3 (---) (---) (---) (---) (---) (---) (---) The Sing Off
1.2 (---) (---) (1.2) (1.2) (1.3) (1.2) (1.3) Parenthood
1.2 (1.0) (---) (1.1) (0.7) (0.9) (1.0) (1.2) Pawn Stars
1.2 (1.4) (1.0) (1.5) (1.3) (1.2) (0.8) (---) X Factor
1.1 (1.0) (---) (1.3) (1.3) (1.3) (0.9) (1.3) Vampire Diaries
1.0 (---) (---) (0.9) (0.9) (1.4) (1.1) (1.1) Sean Saves The World
0.9 (---) (---) (0.9) (0.9) (1.0) (1.1) (1.2) Michael J. Fox Show
0.8 (0.9) (---) (0.9) (0.9) (0.9) (---) (1.1) Once/Wonderland
0.7 (0.6) (0.5) (0.7) (0.7) (---) (---) (---) Eagleheart
0.7 (1.1) (0.9) (1.4) (1.4) (1.5) (0.6) (---) Glee
0.7 (0.6) (---) (0.6) (0.7) (---) (---) (---) Ground Floor
0.6 (0.9) (---) (0.7) (0.8) (1.1) (1.1) (---) NBA Basketball
0.6 (0.6) (---) (0.7) (0.7) (0.6) (0.6) (0.6) Reign
0.6 (---) (---) (---) (---) (---) (---) (---) Rodeo Girls
0.5 (0.4) (---) (0.5) (0.6) (---) (---) (---) Braxton Values
0.5 (0.5) (---) (0.6) (0.4) (0.5) (0.4) (0.4) Colbert Report
0.5 (0.5) (---) (0.7) (0.5) (0.6) (0.5) (0.5) The Daily Show
0.5 (0.4) (0.4) (0.5) (0.6) (0.6) (---) (0.7) Eric Andre Show
0.5 (0.7) (---) (---) (---) (---) (---) (---) Mob Wives
0.5 (0.4) (---) (0.6) (0.5) (0.5) (0.3) (0.4) Project Runway
0.5 (0.5) (---) (0.7) (0.6) (0.5) (0.6) (0.5) White Collar
0.4 (0.4) (---) (0.4) (---) (0.4) (0.3) (0.4) Impact Wrestling