Papa Vinyard here, now here's a little somethin' for ya...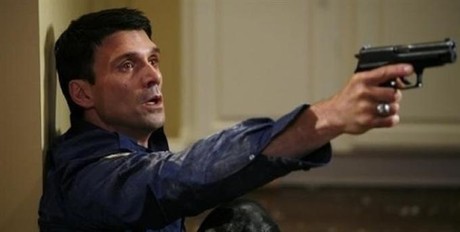 That PURGE sequel that original writer/director James DeMonaco is getting together for a June 2014 release date has just found its leading man. Deadline reports that Ethan Hawke is being replaced by Frank Grillo as the protag of this next chapter in the continuing tales of the one night of the year when criminals get full reign to raise hell unchecked.
Smart casting move. Grillo probably wasn't too expensive a hire (necessary if they want to come even close to matching the original's reported $3 million budget), but he's been building up steam as a character actor in the past half decade or so. From THE GREY to END OF WATCH to his recent badass villain role in HOMEFRONT (not to mention playing Crossbones in this April's CAPTAIN AMERICA: THE WINTER SOLDIER), he's been making impressions left and right, and has quickly made a reputation as a thoroughly reliable presence in a whole multitude of roles. I'm intrigued by the idea of him taking on the challenge of holding down a horror film as the lead, especially if they go the route of making him another average-joe family man (which very well might be the case).
Until we get more details on the film's story (or even the title; Universal lists this film as THE NEXT CHAPTER OF THE PURGE), it's hard to speculate on what kind of movie Grillo's going to be starring in, but the simple knowledge that he'll be the star is enough to whet my interest. Just as long as DeMonaco and Universal don't get in the SAW/FRIDAY THE 13TH habit of just making the same film over and over again with different casts.
-Vincent Zahedi
"Papa Vinyard"
vincentzahedi@gmail.com
Follow Me On Twitter