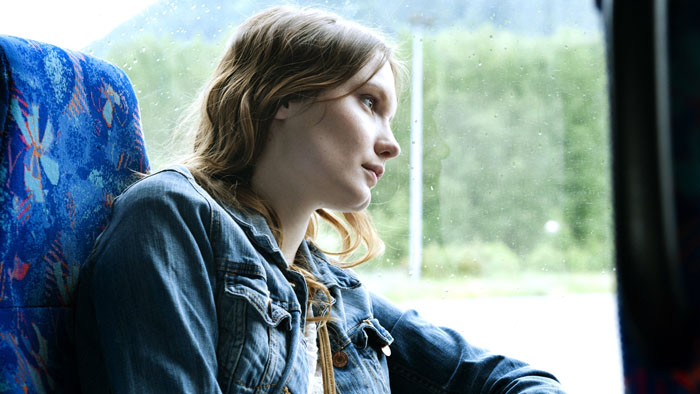 Sundance says of "Lucy," tonight's excellent sixth episode of Sundance's French zombie series "The Returned":
A strange electricity outage occurs throughout the town. Pierre connects with Camille, who is now seen as a kind of "prophet" after she speaks out about her experiences in the afterlife. After being "killed," Simon comes back to life again.
What is Sundance not telling us?
* Lucy may fancy herself a cowgirl.
* Lucy repeatedly demonstrates her superpower.
* The episode begins one year earlier.
* There's enough of Simon's penis this week to please even George R.R. Martin.
* Lena and Lucy get very naked too.
* Camille's grave is exhumed!
* And it turns out Victor has something up his sleeve.
Premiering tonight:

Courtney Loves Dallas (10pm Bravo)

Gypsy Sisters (9pm TLC)

Millionaire Matchmaker (9pm Bravo)
Mob Wives (10pm VH1)

Panic Button (10:30pm Tru)

Party On (10pm E!)
"Glee" and "X Factor" both hit new series lows on Thanksgiving. Fox is moving "Glee" to Tuesdays.
A football game confirmed people can still tune into NBC on a Thursday.
Thursdays, Oct. 24-Nov. 28, 2013
(18-49 finals; repeats in grey; prior weeks in parentheses)
6.9 (---) (---) (---) (---) (---) NFL NBC
3.3 (5.3) (5.2) (4.9) (2.4) (5.2) Big Bang Theory
1.6 (---) (---) (---) (---) (---) Charlie Brown
1.4 (2.2) (2.1) (2.1) (1.9) (2.3) The Crazy Ones
1.1 (---) (---) (---) (---) (---) Modern Family
1.0 (1.8) (1.6) (1.8) (1.8) (1.8) Elementary
1.0 (---) (---) (---) (---) (---) Gaga Muppets
1.0 (1.5) (1.3) (1.2) (0.8) (---) X Factor
0.9 (1.4) (1.4) (1.5) (0.6) (---) Glee
0.5 (---) (0.7) (2.2) (0.4) (0.5) College Football
0.5 (0.7) (0.7) (---) (---) (---) Eagleheart
0.4 (0.5) (0.6) (0.6) (---) (0.7) Eric Andre Show
0.2 (---) (---) (---) (---) (---) CW Movie