Papa Vinyard here, now here's a little somethin' for ya...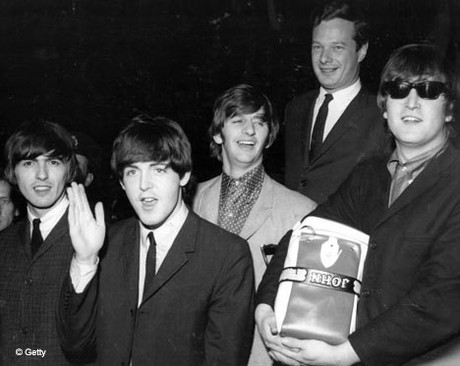 While there has yet to be a legit "Beatles movie", chronicling the rise and "fall" of the most influential rock band of the latter-20th century, there have been a bunch of films, TV and theatrical, about the fringes of the bands orbit. There was Robert Zemeckis' feature debut, I WANNA HOLD YOUR HAND, the musical BEATLEMANIA, the Stephen Dorff/Sheryl Lee Stuart Sutcliffe biopic BACKBEAT, and even TWO OF US, that TV movie from 2000 with Aidan Quinn as Paul McCartney and Jared Harris as John Lennon. Now, according to Deadline, we have another Beatles-centric film that does not put the Fab Four front and center, but rather their doomed manager, Brian Epstein.
THE FIFTH BEATLE, as the film will be called, is based on a recently released graphic novel (which happened to debut at #5 on the NY Times bestseller list this past week) about Epstein's discovery and cultivation of the legendary Liverpool-based rock band. Vivek J. Tiwary, who wrote the graphic novel, will pen the screenplay for YES MAN/DOWN WITH LOVE director Peyton Reed. Obviously, who they cast to play the mop-topped musicians, as well as, of course, Epstein (who died in 1967, with the Beatles at the peak of their fame, at the age of 32), presents a huge challenge to Reed and his producers (which, aside from Tiwary, also includes AMERICAN BEAUTY Oscar-winner Bruce Cohen). These are figures that have lingered in pop culture for 50 years (Jesus, can you believe Ringo and Paul still fucking perform?), and how they bring these icons to life will determine whether the film becomes a THE DOORS or a SGT. PEPPERS LONELY HEARTS CLUB BAND in the annals of film history.
Who would you cast to play John Lennon, Paul McCartney, Ringo Starr, George Harrison, and Brian Epstein?
-Vincent Zahedi
"Papa Vinyard"
vincentzahedi@gmail.com
Follow Me On Twitter