Hey guys! Horrorella here...
A bit of coolness for your Wednesday afternoon. Broken Bells, the group made up of Brian "Danger Mouse" Burton and James Mercer of The Shins are set to release their new album, After the Disco, in January. To celebrate, they have once again partnered with director Jacob Gentry and producer Alexander A. Motlagh (both behind the awesome awesome film THE SIGNAL), to create a set of short films to pair with the album.
This marks the second collaboration between Broken Bells and Gentry, who also directed the video for The Ghost Inside, which featured Christina Hendricks wandering the galaxy in a broken down spaceship, searching for paradise. AFTER THE DISCO serves as something of a spiritual successor to The Ghost Inside, offering a new story but still playing with similar themes and settings (but if you look closely at Part One, you can see The Ghost Inside making a quick appearance).
AFTER THE DISCO stars Anton Yelchon and Kate Mara as a pair of star-crossed lovers, struggling to be together across space and time.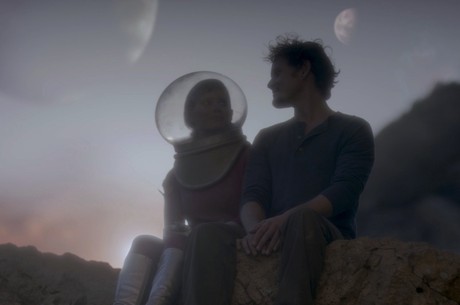 The first video, Part One: Angel and the Fool, follows Yelchin's character, Oliver, as he comes home to his sad and empty apartment, day after day, and loses himself in a continuous dream. In the dream, he discovers and explores far-off worlds and meets a girl he instantly seems to have a connection with - Helen (Kate Mara).
Part Two: Holding on for Life picks up where the first short leaves off, as strange circumstances threaten to keep our lovers apart.
"Broken Bells' music is very cinematic. Like soundtracks for movies that don't exist," said director Jacob Gentry of this collaboration. "So our collaboration is one of reverse engineering. To make the movie to accompany the soundtrack."
It's an interesting tactic that seems to be serving him well. The films are a fun watch, with the music and the visuals pairing very well together. The films have a great visual style that bridges modern and '70's science fiction. It really adds to the setting and gives the films a distinct feel.
Check out both AFTER THE DISCO shorts below. I am also including The Ghost Inside, for good measure.
Enjoy!