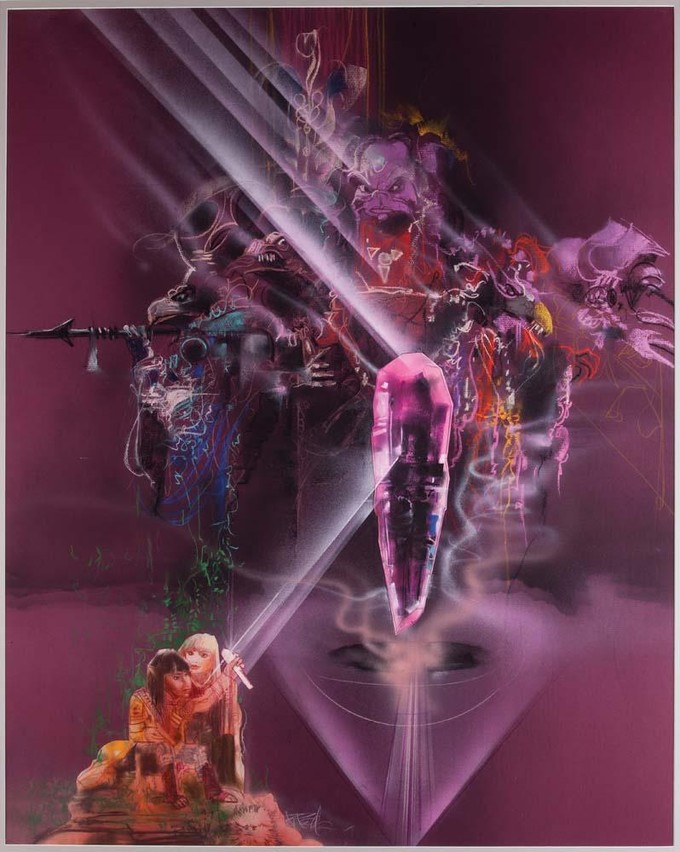 I've never been a particularly huge fan of THE DARK CRYSTAL; I saw it again recently by way of a stunning 70mm screening and felt the picture, simply, felt a tad flat. The movie looked great and sometimes sounded great and a few moments sprang to life rather brilliantly to be sure, but…the whole felt cumbersome to me. And flat.
This said, THE DARK CRYSTAL we saw in theaters was not necessarily what filmmakers Jim Henson and Frank Oz initially intended. Their earlier cuts of the film were reportedly darker and generally more sophisticated in both concept and execution. Alas, in response to test screening results, TDC was re-shaped into product we know today - somewhat re-sequenced, with narration added, etc.
Building from a rather crappy work print that has been floating around The Net and was discovered by Demonoid user Aikousha - YouTuber scoodidabop has re-assembled THE DARK CRYSTAL by hybridizing media from the work print and more recent permutations - resulting in a version of the film which is likely much closer to what Oz and Henson had in mind back in the day.
Says scoodidabop...
I took it upon myself to clean up the audio, sync it to a clean treatment of the video, include some scenes that were unavailable anywhere else, and recut a watchable version that played out like the workprint.
[EDIT]
Black and white scenes were included from the workprint occasionally since they're not available elsewhere. They include: A matte painting of the Skeksis castle that pans down to the 'lost' Jen swimming scene, an extended clip of 'Trial By Stone', an extended scene in Aughra's home, and a little extra at the end.
The result? If you know the film at all, the differences in vibe and impact here are rather profound at times. Learn more about this undertaking via THIS YouTube page, or you can watch the whole shebang directly through the embed below.
————————
Glen Oliver
"Merrick"
- e-mail
- Twitter