Hey guys! Horrorella here...
Exciting news! Deadline is reporting that CBS film has won a pretty intense bidding war for an adaptation of Alvin Schwartz's collection of ghost stories (and the books that scared the living shit out of me repeatedly when I was a kid), Scary Stories to Tell in the Dark.
If you never read the books, get on that damn quick. They were comprised of three collections of classic ghost stories, urban legends and folklore that were responsible for the nightmares of countless children everywhere. To this day, I am scared shitless of various forms of ghosts, Mexican sewer rats, spiders laying eggs in my face and buying clothes from thrift stores. But as creepy as the stories themselves were, the REALLY scary part was the truly terrifying illustrations from Stephen Gammell.*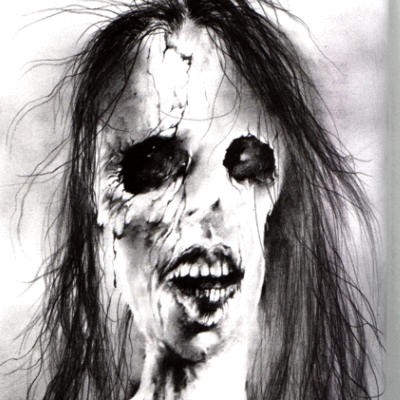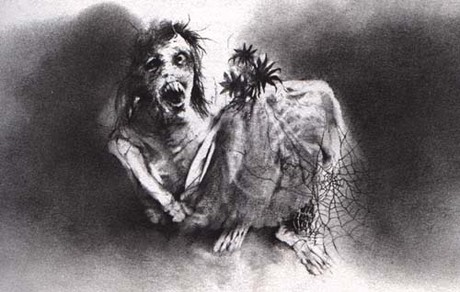 Seriously - you could make a 2-hour motion comic from these images and fans would be lining up at the box office for weeks. And probably crapping their pants.
But it doesn't sound like that is the route they are taking. The project is being developed by Patrick Melton and Marcus Dunstan (SAW IV - SAW VII, FEAST, THE COLLECTOR). The script will reportedly adapt several of the stories contained in the books into a single film about a group of kids who stand up to their fears and save their town when nightmares begin to come to life.
The description makes it sound as though the film could be aimed at a younger audience (Goosebumps or MONSTER SQUAD style), as opposed to adult SAW fans, but that's not necessarily a bad thing. And it's certainly in keeping with the demographic for the original books. We also recently learned that Melton and Dunstan are already switching gears a bit with an upcoming adaptation of The Stuff of Legend for Disney. I was and remain a huge fan of these books, so I'm really curious to see how this comes together.
What do you guys think? What were your favorite stories that you would like to see incorporated into the film?
*The newer printing of the books has incorporated less scary, kid-friendly illustrations, which is totally lame-sauce. If you're going to pick these up (and you should), get the classic versions. And then sleep with the lights on.