Papa Vinyard here, now here's a little somethin' for ya...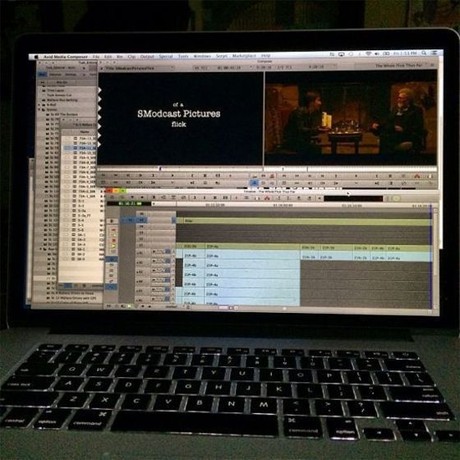 You know that walrus-man movie that Kevin Smith was trying to pump out in half a year in order to submit it to Sundance (marking CLERKS' 20th anniversary at the festival)? Well, unfortunately, he's revealed on his blog that he won't be finishing TUSK in time for the submission deadline. Most of the film is in the can, but its "fifth Beatle", an investigator character named Guy Lapointe, hasn't shot any of his scenes yet. Smith doesn't reveal who the actor is, only that they need two shooting days with him to get all they need for the finished film.
Without having wrapped the film yet, Smith has resigned himself to allowing the finished product some extra time in the editing room before shipping it off to festivals.
We've still got two more shooting days here in Los Angeles to wrap the flick with our fifth Beatle – the performer playing the role of investigator Guy Lapointe. It's looking like late December/early January for that – which would mean I'd be racing to my self-imposed Sundance finish line. And while I had to rush to make it all happen so as not to risk losing momentum, rushing now might foster a cavity around my creativity. The hard part's over: we got the flick in the can (which sounds vaguely dirty). Now that I'm seeing what we've created in madcap haste, I'm slowing down the pace: because, shockingly, this flick turned out WAY the fuck better than I'd dreamed it could be.
Nonetheless, Smith says that he'll screen the film for fans of his SModcast series, only without the Lapointe footage. He's been showing the film as-is to friends, claiming, "Anyone who's watched any of the cut footage so far always remarks about how pretty TUSK looks – before they add 'This is so fucked up, Kevin…'" He'll reveal details about this screening to his "SModomites" via his podcast.
So there you have it. Smith actually pounded this one out in six months, but he's purposefully allowing his self-imposed deadline to pass in order to give himself some breathing room in fine tuning the film. I'm all for it; I'd hate for Smith's first film since RED STATE to be a rushed curiosity that only appealed to his podcast peeps.
I also like that he's assigned composer Christopher Drake to score the film, citing his awesome, moody work on THE DARK KNIGHT RETURNS animated film(s). It shows that Smith is actively trying to make his film into a moody pseudo-horror piece instead of an in-jokey rush job to scrape a quick buck off his devout fans. Which is awesome; I'm happy that Smith has his legion of loyal followers (god knows, years ago, I would've been one of them), but more than that, I want to see him getting out there and making good movies!
Here's a closer (still blurry) look at the frame featuring Justin Long and MIchael Parks in Smith's AVID above:
What do you guys think? Are people who never listen to Smith/Scott Mosier's podcast(s), or even Smith's prior work, interested in this flick at all?
-Vincent Zahedi
"Papa Vinyard"
vincentzahedi@gmail.com
Follow Me On Twitter