Hey Yo, Draven here.
We had our first look at this AMAZING SPIDER-MAN 2 banner , late last week and it wasn't the best look as it was a picture snapped in a theater. Now Sony and the official AMAZING SPIDER-MAN 2 Twitter account has officially released it and has given us a better look at it.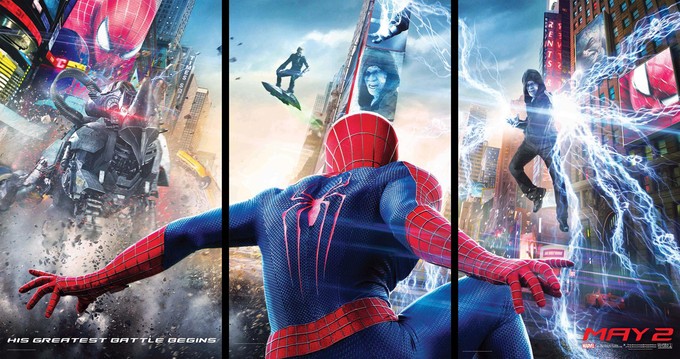 I think it is pretty clear that Dane DeHaan is the Green Goblin, especially looking at that picture near Electro. I am sure we will get official confirmation of that when the trailer is released Thursday but in the meantime check out this new synopsis Sony has released too:
We've always known that Spider-Man's most important battle has been within himself: the struggle between the ordinary obligations of Peter Parker and the extraordinary responsibilities of Spider-Man. But in The Amazing Spider-Man 2, Peter Parker finds that a greater conflict lies ahead.

It's great to be Spider-Man (Andrew Garfield). For Peter Parker, there's no feeling quite like swinging between skyscrapers, embracing being the hero, and spending time with Gwen (Emma Stone). But being Spider-Man comes at a price: only Spider-Man can protect his fellow New Yorkers from the formidable villains that threaten the city. With the emergence of Electro (Jamie Foxx), Peter must confront a foe far more powerful than he. And as his old friend, Harry Osborn (Dane DeHaan), returns, Peter comes to realize that all of his enemies have one thing in common: OsCorp.
Follow me on Twitter here!