Papa Vinyard here, now here's a little somethin' for ya...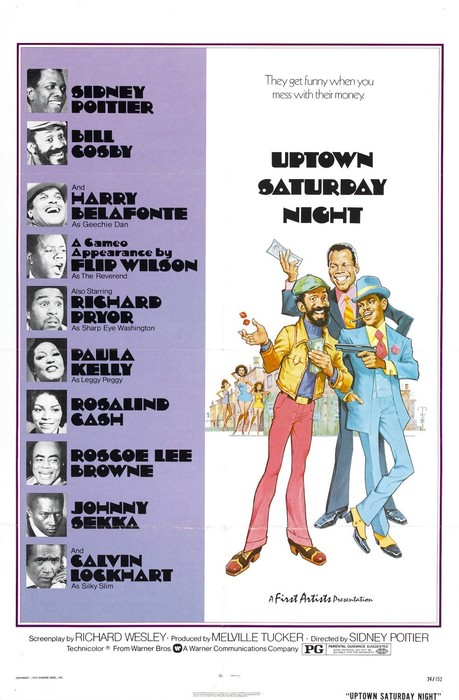 Have fond memories of UPTOWN SATURDAY NIGHT? That 1974 comedy, directed by Sidney Poitier, starred Poitier, Bill Cosby, Richard Pryor, and Harry Belafonte, and was the first of three collabs between Poitier and Cosby (the others being LET'S DO IT AGAIN and A PIECE OF THE ACTION). According to Variety, you can get ready to see the film's "night on the town" premise updated for 2013, and if all goes to plan, with none other than Will Smith and Denzel Washington in the central roles.
Nicholas Stoller (THE MUPPETS, FORGETTING SARAH MARSHALL) is the latest writer onboard the project, which will be directed by Will Ferrell's partner/FUNNY OR DIE co-founder, Adam McKay. Stoller will be rewriting the previous draft by Timothy Downling (ROLE MODELS, THIS MEANS WAR). If Smith and Washington sign off on Stoller's draft, the film will get going next summer for a release date sometime the following year. If not, the entire film might be axed (unless someone can come up with a duo as internationally famous and effortlessly charming as the two current leads).
THE HANGOVER/PROJECT X/21 & OVER/LAST VEGAS with Will Smith and Denzel Washington? Color me interested. But I have to ask, after African-Americans Poitier and Richard Wesley directed and wrote the original almost 40 years ago, is it too much to ask to get a black writer or director involved with this flick? Not that that's any mark of the eventual film's quality; it just seems bizarre (and kind of backwards) to see a black-as-night production like UPTOWN SATURDAY NIGHT remade by the white guys who made GET HIM TO THE GREEK and TALLADEGA NIGHTS: THE BALLAD OF RICKY BOBBY. But I digress…
What do fans of the original UPTOWN SATURDAY NIGHT think of the prospect of Will Smith, Denzel Washington, Nicholas Stoller, and Adam McKay doing their thing with it?
-Vincent Zahedi
"Papa Vinyard"
vincentzahedi@gmail.com
Follow Me On Twitter