Papa Vinyard here, now here's a little somethin' for ya...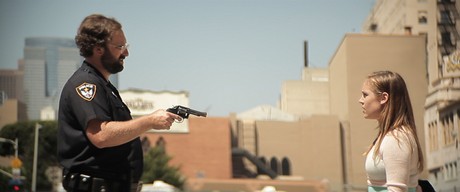 Eric Wareheim, Steve Little, Ray Wise, Grace Zabriskie, and Marilyn Manson have significant speaking parts in this movie. Need more? Fine.
Quentin Dupieux, a.k.a. Mr. Oizo, transitioned from music to film with the bugnuts features like RUBBER and WRONG. His latest flick, WRONG COPS, now has an official theatrical trailer, and it looks…pretty freakin' hilarious. I'm a sucker for this kind of absurdist humor when the talent knows how to pull it off, and Dupieux, as well as co-stars Wareheim, Little, Wise, and WRONG actor Eric Judor, seem to have a found a good balance between maintaining a certain tone while they execute their gags and never letting the constrictions of the narrative get in the way. Taking the "Sabotage" music video approach of making fun of the seriousness of cop dramas seems to be a ripe battleground for Dupieux and co. to go all bonkers and off-the-wall within an established narrative framework, the same way the "horror" worked for RUBBER.
It's not all-that-common for a major name in music to successfully create a successful career as a filmmaker (Daft Punk's lone cinematic effort, ELECTROMA, is a deeply experimental, wordless film that many find pretentious, but that I love rather deeply), so it's impressive that Dupieux has managed to complete and release four films, three of which feature fairly recognizable actors. Hopefully, the finished version of WRONG COPS can maintain the momentum that RUBBER and WRONG have given his directing career over the past few years. If the reviews of the preview version that played at Sundance are any indication, it's a polarizing, extreme, and "wrong" work that will no doubt elude the vast majority of moviegoers. And I wouldn't have it any other way.
What do you guys think? Does this look like it could be hilarious, or does it just seem like weirdo nonsense?
WRONG COPS go on patrol on theater screens, VOD, and home video on December 20th.
-Vincent Zahedi
"Papa Vinyard"
vincentzahedi@gmail.com
Follow Me On Twitter