Papa Vinyard here, now here's a little somethin' for ya...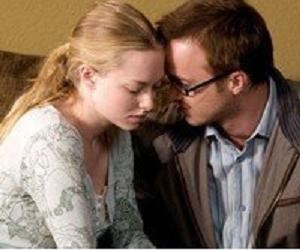 I don't know if you've heard of this Aaron Paul kid (I guess he's best known for playing an over-grown man-child who likes to use the "B-word" a lot), but he seems to be picking up some heat these days. He's got the lead in the upcoming NEED FOR SPEED movie, he's in Ridley Scott's EXODUS, and now, it seems that he's taking yet another step towards the big-screen A-list by taking a significant role alongside Russell Crowe and his former BIG LOVE costar, Amanda Seyfried. PURSUIT OF HAPPYNESS/SEVEN POUNDS director Gabriele Muccino is helming the film, entitled FATHERS & DAUGHTERS, which will feature parallel narratives involving Crowe's mentally-slipping character struggling to raise a 5-year-old girl, and the grownsed-up version of the girl (played by Seyfried) learning to overcome her childhoood demons. Paul will play Seyfried's love interest as she tries to get out from her father's shadow, in order to create a new, less-harried life for the two of them.
As we saw in the NEED FOR SPEED trailer this past week, studios are chomping at the bit to put Paul front and center of their ad campaigns, and it seems that it's only a matter of time before he's considered one of the legitimate screen talents of his generation. He played Seyfried's love interest on BIG LOVE, so he's sort of hitting the well in a way, but I'm hoping this film (as well as EXODUS) provides Paul with a character that is as far removed from Jesse Pinkman as possible, so that his fanbase can rightfully acknowledge that his skill set goes way beyond wearing beanies and yelling "BITCH!" in a plethora of variations (presuming they haven't seen his acclaimed work in SMASHED).
Anybody else excited to see Paul flex his acting muscles alongside Academy Award-winner Russell "Maximus" Crowe?
-Vincent Zahedi
"Papa Vinyard"
vincentzahedi@gmail.com
Follow Me On Twitter