Papa Vinyard here, now here's a little somethin' for ya...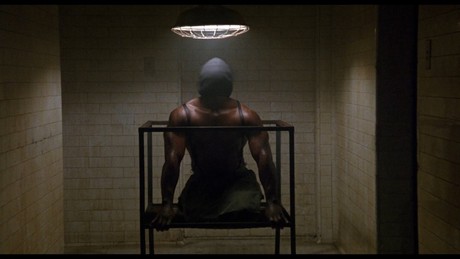 Remember that JACOB'S LADDER remake we told you about back in June? Well, according to The Wrap, it's more of a "contemporary homage" than a straight-up remake, and the project has found its director in GLENGARRY GLEN ROSS/HOUSE OF CARDS' James Foley. They're still using the script by Jeff Buhler and Jake Wade Wall that they had back when this project was being described as a more direct do-over, but The Wrap maintains that it will have an all new story and characters, with only the haunting, existential bent remaining from its predecessor. My guess is they're taking Jacob and his squad out of Vietnam and plopping them in the Middle East.
Foley, aside from GLENGARRY and his HOUSE OF CARDS work, has directed some other pretty killer movies like THE CORRUPTOR and AFTER DARK, MY SWEET, as well as a particularly strong episode of what may be my favorite current TV show (not that BREAKING BAD and EASTBOUND AND DOWN are out of contention), HANNIBAL. The protagonist's distrust of reality and his surroundings in AFTER DARK, MY SWEET makes me think that Foley could do a great, more-subtle job showing the nightmarish effects war has on the psyche. He also has a great ability to direct actors; if he gets a good enough Jacob (or whatever they call him), I don't doubt that the two of them could make this re-imagining/remake/reboot/whatever it is something totally worthwhile.
What do you guys think? Does Foley's filmography make a JACOB'S LADDER-type flick with him at the helm something to get excited for?
-Vincent Zahedi
"Papa Vinyard"
vincentzahedi@gmail.com
Follow Me On Twitter