Papa Vinyard here, now here's a little somethin' for ya...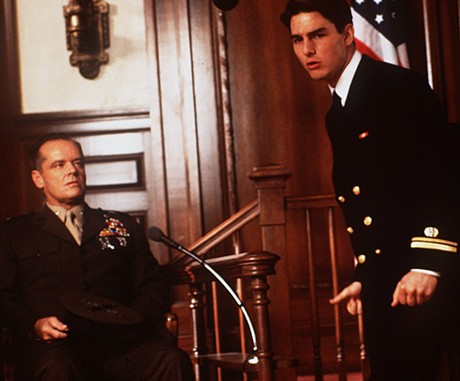 Tom Cruise has been doing the action tentpole thing for a few years now (let's not mention ROCK OF AGES because I've recently eaten and I'd like to keep my food down), but now, he's following up on his TROPIC THUNDER comedic breakthrough…and he's trying to bring Jack along! The Hollywood Reporter has mentioned that Cruise, in his attempt to get a high-concept comedy entitled EL PRESIDENTE off the ground, is attempting to recruit none other than Jack Nicholson to back him up. Jay Roach, who was originally lined up to helm the flick, has been replaced by Doug Liman, who just worked with Cruise on EDGE OF TOMORROW (a.k.a. ALL YOU NEED IS KILL). The premise has Cruise playing a secret service agent assigned to Jack's ex-president, who was never officially elected, and only served as POTUS because he was V.P. when the "Eagle" croaked in office. The two must evade assassins and the like when someone tries to take out Jack's retired politico. Sounds a little like GUARDING TESS meets MIDNIGHT RUN, but with the two male leads from A FEW GOOD MEN; Griffin Mill would be skeptical, but I'd buy it (for way more than a dollar)!
Cruise and Nicholson, aside from being two of the most recognizable male movie stars on the planet, obviously made a huge impression in the climactic courtroom scene in that Rob Reiner film, so it's a smart move on Cruise's part to try and rekindle that chemistry. Jack doesn't work that much these days (he's released four movies in the past 10 years…yeah) and hasn't appeared in a lead role since '07s THE BUCKET LIST, so it'd be a big coup for the production (and the marketing department) to get him back in the game in a big way.
Hopefully, the script written by Jesse Armstrong (IN THE LOOP), Daniel Goor (BROOKLYN NINE-NINE), and Paul Attanasio (QUIZ SHOW) can justify the massive star power this project will have if Cruise gets Jack to sign the dotted line. If there are enough character moments to justify the more audience-friendly banter and plot mechanics, this could prove to be a really fun, star-powered time at the movies.
So, does the prospect of these two working together again get you excited (as it does for me), or are they aging, used up relics from an era of star-driven Hollywood dreck?
-Vincent Zahedi
"Papa Vinyard"
vincentzahedi@gmail.com
Follow Me On Twitter