Hey guys! Horrorella here...
Last week, Bad Robot tweeted a photo from the STAR WARS: EPISODE VII Workshop that showed director J.J. Abrams and producer Kathleen Kennedy posing with R2-D2, leading the internet to begin speculation as to weather or not the droid would be making an appearance in the new film.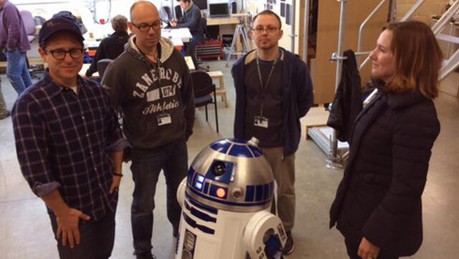 Speculate no more - Variety has confirmed that yes, R2-D2 will be involved in the film, though, obviously, LucasFilm is remaining tight-lipped as to the role that he will be playing in the story.
And as cool as that is, here's where the story gets awesome:
The two other guys in the photo Lee Towersey and Oliver Steeples, two members of the Creature Effects Team. These guys apparently caught Kennedy's eye earlier this year when she saw the work that they had done as part of the worldwide R2-D2 Builders Club - a group dedicated to building and recreating the various robots and droids from the STAR WARS universe.
"She posed for pictures with us, looked at all the droids we'd built and was very complimentary," said Steeples, who finished his first R2-D2 in 2007, after 10 years of collecting parts and researching. "I mentioned that the R2-D2 Builders in the UK were available if required, as a semi-joke. When I was contacted to work on the film by [executive producer] Jason McGatlin, it was on her recommendation."
In an interview with The Official Star Wars Blog, the duo revealed where they currently are in the development process.
"What we do need to do is improve on the mechanics," says Towersey. "We're currently in a research and design phase where we're looking at drive options for reliability on all possible terrains, whether it be a one-motor-does-all, or a system which is easily adjusted depending on terrain. We have a few mocked up ideas which we hope to road test very soon."
So these fans spent a ton of time building these awesome working replicas, and now get to be a part of EPISODE VII. How fucking cool is that? I love the fact that a couple of STAR WARS geeks with an intense amount of passion, know-how and dedication have been brought on board the production.
What do you guys think?
Follow me on Twitter