Hey guys! Horrorella here...
More possibilities are emerging from the BEETLEJUICE sequel. We already know that Seth Grahame-Smith is scripting the project, and learned last month that Tim Burton is in talks to direct the film, and that Michael Keaton would be reprising the iconic role.
Now, co-star Winona Ryder reveals that she may be joining the project as well. During an interivew with The Daily Beast, she said,
"I'm kind of sworn to secrecy...But it sounds like it might be happening."
She doesn't give any sort of indication as to what Lydia's role in the potential sequel would be, but acknowledges that she loves the character just as much as fans do.
"It's not a remake," Ryder revealed. "It's 27 years later. And I have to say, I love Lydia [Deetz, Ryder's teenage goth character] so much. She was such a huge part of me. I would be really interested in what she is doing 27 years later."
During the interview, Ryder also acknowledged some of the trepedation that has been voiced by fans, and the fear that revisiting the property would undermine the memory of the original.
"It's a very precious movie to people," she explained. "So there are a lot people like, 'DON'T.'"
She goes on to convey the fact that she would never be on board if Burton and Keaton were not a part of the project as well.
"I would never go near [a sequel] if it was not Tim and Michael," she said. "Because those guys, I love."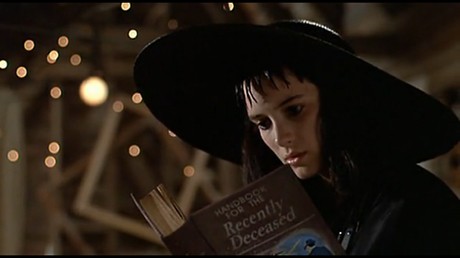 Now, obviously, nothing is set in stone at this point, but it is interesting food for thought. Like most fans, I am a bit wary about this property being revisited - I love the original and it was a huge huge part of my childhood. But the idea of the original players all revisiting it together does kind of make me smile a little. The characters, as well as the actors. The idea of Lydia still being involved in the story years later makes it feel more like BEETLEJUICE - especially compared to the idea of cashing in on a totally unrelated story. If they are able to pull it off and still give it the same vibe as the original (which will be tough - that flick is in a class all by itself), then it could be a fun experience.
What do you guys think?
Follow me on Twitter