Movie News
Dustin Hoffman and Steve Buscemi join Adam Sandler in Tom McCarthy's THE COBBLER!
Papa Vinyard here, now here's a little somethin' for ya...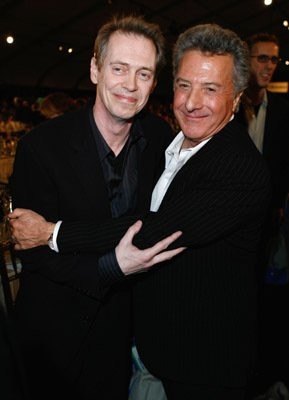 The Wrap has reported today that Tom McCarthy's Adam Sandler dramedy, THE COBBLER, has landed a couple of heavy hitting supporting actors. Dustin Hoffman and Steve Buscemi (who've both recently played gangsters on HBO) will appear in the film by the STATION AGENT/WIN WIN director, which concerns a magical shoe mender who has the ability to "step into the shoes" of his customers. No clue on what roles the two actors will have in the picture, other than that Buscemi's character is named "Manny".
Buscemi's casting isn't altogether surprising; since their first appearance together in AIRHEADS almost 20 years ago, Buscemi's popped up in seven Sandler flicks, not to mention doing a voice in HOTEL TRANSYLVANIA. However, I don't believe Hoffman's ever worked with Sandler before, and I'm thinking they could very easily have some solid onscreen chemistry.
Just the fact that this is a more dramatic Sandler picture piques my interest, even with the supernatural bent. With this and Jason Reitman's MEN, WOMEN, AND CHILDREN, it would seem that the filthy-rich funnyman is taking more successive "serious" roles than ever, which can only be a good thing. That run from GROWN UPS to GROWN UPS 2 was pretty rough.
-Vincent Zahedi
"Papa Vinyard"
vincentzahedi@gmail.com
Follow Me On Twitter