Papa Vinyard here, now here's a little somethin' for ya...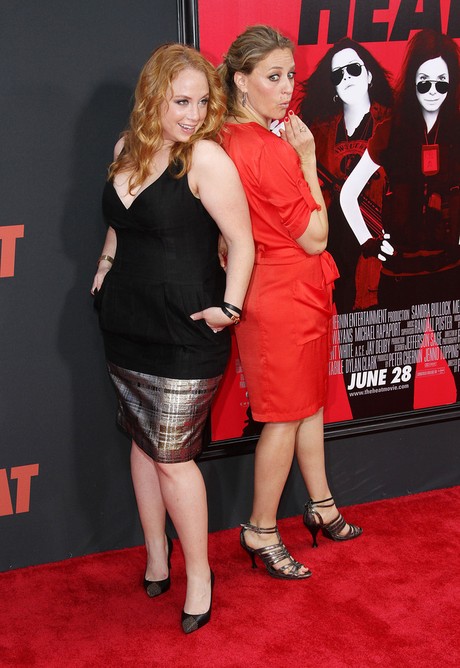 THE HEAT killed it at the box office, but then Sandra Bullock promptly pumped the brakes at a prospect of a sequel by citing her disappointment in SPEED 2 and MISS CONGENIALITY 2 (we don't blame her). To respond to the interest in the film, Paul Feig has kickstarted two projects. The first was the SUSAN COOPER spy comedy that features Melissa McCarthy in a similarly empowered, typically "boys club"-y genre. Now, Deadline has announced that Feig is developing a HEAT spinoff centered around McCarthy's boorish sisters from that film. Jamie Denbo and Jessica Chaffin, who also worked with Feig on a couple of projects featuring their characters "Ronna & Beverly", will be reprising their roles of Beth and Gina Mullins for the film, which is being written by first-timer Tricia McAlpin.
Feig's own words about the project:
"Jamie and Jessica are two of the funniest people on this planet. They took small roles in The Heat and turned them into characters worthy of their own movie. I can't wait to unleash Beth and Gina on the world. Run for your lives."
Many who've seen the flick declared McCarthy's family to be a clear highlight, but this is still kind of surprising. Feig was able to crossover Kristen Wiig's small-screen acclaim into big-screen success, but Denbo and Chaffin are much lesser known entities in the U.S. than Wiig (or even McCarthy) were at the time of BRIDESMAIDS release. There's no word yet as to whether the rest of the Mullins clan, which also included Bill Burr, Nate Corddry, Michael Rappaport, and Joey McIntyre, will be present, but I can't imagine what the movie would play like if the two women never interacted with their family. Maybe Beth and Gina leave Boston for Cancun or something.
But hey, I respect Feig and his consistent desire to get female-fronted comedy out in the multiplexes, so I'm hoping that Ms. McAlpin can write as much raunchy, aggressive humor that Katie Dippold (with some help from some improv-savvy onscreen talent) was able to conjure up the first time around. Who knows, maybe Feig can do for Denbo and Chaffin what he did for Wiig and McCarthy. If nothing else, this should boost their stateside profiles at least a little bit,
And damn, I hope a HEAT sequel comes together at one point. That was a film that, for once, I was actually really interested in seeing a legit follow-up to. But I guess this will do for now.
-Vincent Zahedi
"Papa Vinyard"
vincentzahedi@gmail.com
Follow Me On Twitter