Papa Vinyard here, now here's a little somethin' for ya...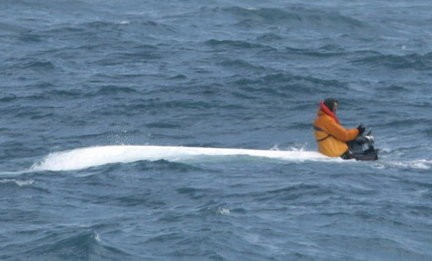 Dwayne Johnson is really living up to his "Team Bring It" motto; the dude appeared in 5 movies in 2013, not to mention WWE appearances (as The Rock) and his own TV show, THE HERO. One of those '13 movies was the more dramatically-minded SNITCH, and even though it opened softer at the box-office than Johnson's typical action and family flicks, it seems that he's still got the desire to squeeze more serious acting gigs in between movies like HERCULES: THE THRACIAN WARS and FAST 7. Variety has announced that the actor will be playing former University of South Florida football player, Nick Schuyler, in an adaptation of Schuyler's memoir, NOT WITHOUT HOPE.
Back in '09, Shuyler and three athlete buddies were on a fishing trip off the Florida coast when a storm descended on them, leading to their boat capsizing. After two and a half days out at sea, only Shuyler survived, and was found clinging to his boat (as seen above). His three buddies, including Oakland Raiders pick Marquis Cooper, were lost at sea and presumed dead. A movie version of this tragedy sounds like it'd be something in between ALL IS LOST and LONE SURVIVOR (ironically enough, Johnson will be working with the latter film's director, Peter Berg, on an upcoming HBO series).
Watching Redford try and survive out there in ALL IS LOST was a harrowing experience, and he didn't have to watch three of his buddies die. If whatever director signs on to this can wrangle the kind of performance out of Johnson that J.C. Chandor got out of Redford, this could be a revelatory role for the worldwide superstar. Hell, I'd love it if Johnson could pull down some serious respect for his acting talent; many of us have recognized the dude's talent and charisma for over a decade, and I don't think it was ever out of the question that he could handle more serious stuff, when asked of him. The more brave of you out there should check him out in SOUTHLAND TALES if you haven't seen it; despite how you feel about the movie, there's no question that Johnson does weirder, more interesting work than is usually asked of him, and handles it like a champ.
What do you guys think? Does Dwayne Johnson watching three close buddies die while he slowly suffers from hyperthermia while clinging to a boat sound like something you'd want to see?
-Vincent Zahedi
"Papa Vinyard"
vincentzahedi@gmail.com
Follow Me On Twitter