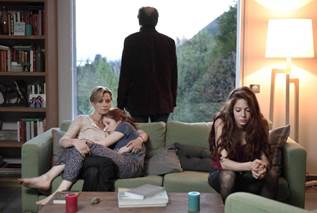 The French love our superheroes. There's an Inspector Batman (and his sidekick Robin) in Luc Besson's delightful 1985 romantic comedy-adventure "Subway."
A couple of DC Comics icons turn up early in tonight's episode of the undead hourlong "The Returned," which begins with Catwoman and ends with cats. In the meantime little Victor creates a lot of creepy drawings, Camille's sister Lena goes into heat, and we get to see what Julie (who's been looking after Victor) looks like naked.
Sundance says of tonight's third episode:
Camille invents a new identity when she attempts to come out of hiding and rejoin the living. Adele grows closer to Simon and reveals surprising news. As the returned try to pick up where they left off, life around their small town becomes more and more disturbed.
Premiering tonight:

Braxton Family Values (9pm WE)
Eagleheart (11:59pm CN)

Ground Floor (10pm TBS)
Holy Cowell!! A new episode of "X Factor" got beat by "The Vampire Diaries" and a repeat of "The Voice" last Thursday!
"Once Upon A Time In Wonderland" hit another new personal low!
"X Factor's" ratings collapse (to an all-time low of 1.2!) did not help "Glee," which matched a personal all-time low last Thursday!
"Two and a Half Men," which began this year with a 4.5, hit a personal all-time low of 2.0. I would blame "The Millers" and "The Crazy Ones."
"The Michael J. Fox Show" hit another new series low, but "Parenthood" went up a bit.
But it wasn't all bad news last Thursday. Thanks to following a repeat of "The Voice," "Sean Saves The World" matched its meager all-time high. (Maybe NBC should just run "Voice" repeats every night it doesn't air a new one?)
And the CW this week gave "Reign" a full first-season order.
Thursdays, Sept. 19-Nov. 7, 2013
(18-49 finals; repeats in grey; prior weeks in parentheses)
4.9 (2.4) (5.2) (5.2) (5.1) (5.2) (5.8) (2.2) Big Bang Theory
2.8 (2.9) (2.9) (3.3) (3.1) (3.6) (---) (0.8) Scandal
2.7 (2.6) (2.8) (2.7) (2.8) (3.1) (3.4) (0.9) Grey's Anatomy
2.6 (2.1) (2.7) (3.2) (3.0) (3.3) (---) (---) The Millers
2.5 (---) (1.3) (---) (---) (---) (---) (---) The Voice
2.4 (2.5) (1.8) (2.3) (3.1) (2.8) (3.2) (4.0) NFL NFLN
2.2 (0.4) (0.5) (0.9) (0.6) (0.8) (0.8) (0.8) College Football
2.1 (1.9) (2.3) (2.4) (2.4) (2.9) (3.9) (---) The Crazy Ones
2.0 (---) (2.3) (2.1) (2.3) (2.4) (2.9) (1.7) 2½ Men
1.8 (1.8) (1.8) (1.5) (1.9) (2.0) (2.1) (1.0) Elementary
1.5 (0.6) (---) (---) (2.9) (1.6) (2.0) (---) Glee
1.4 (1.1) (1.1) (1.1) (1.0) (1.4) (---) (---) Sean Saves The World
1.3 (1.2) (1.3) (1.3) (1.2) (1.5) (1.6) (---) Parenthood
1.3 (0.9) (1.3) (1.3) (1.0) (1.2) (0.3) (0.2) Vampire Diaries
1.2 (0.8) (---) (---) (2.0) (2.0) (2.1) (2.0) X Factor
1.1 (1.1) (---) (---) (---) (---) (---) (---) NBA Basketball
1.0 (1.1) (1.2) (1.2) (1.2) (1.7) (2.2) (---) Michael J. Fox Show
0.9 (---) (1.1) (1.2) (1.7) (---) (---) (---) Once/Wonderland
0.9 (1.0) (1.2) (1.1) (1.0) (---) (---) (---) Pawn Stars
0.7 (---) (---) (---) (---) (---) (---) (---) Greatest Event
0.6 (0.5) (0.6) (0.7) (0.5) (0.5) (---) (---) Beyond Scared
0.6 (0.5) (0.5) (---) (0.6) (0.6) (0.6) (0.7) The Daily Show
0.6 (---) (0.7) (---) (---) (---) (---) (---) Eric Andre Show
0.6 (---) (0.6) (---) (---) (---) (---) (---) Hot Package
0.6 (0.6) (0.6) (0.8) (---) (---) (---) (---) Reign
0.5 (0.4) (---) (---) (---) (---) (---) (---) After The First 48
0.5 (0.4) (0.4) (---) (0.5) (0.6) (0.4) (0.6) Colbert Report
0.5 (0.3) (0.4) (0.9) (0.7) (0.6) (0.6) (0.9) Project Runway
0.5 (0.6) (0.5) (0.6) (---) (---) (---) (---) White Collar
0.4 (---) (---) (---) (---) (---) (---) (0.3) Anger Management
0.4 (0.6) (---) (0.4) (---) (---) (0.4) (0.5) Conan
0.4 (0.5) (0.4) (0.6) (---) (---) (---) (---) Covert Affairs
0.4 (---) (0.6) (0.6) (0.6) (0.5) (0.4) (0.5) The First 48
0.4 (0.3) (0.4) (0.4) (0.3) (0.4) (0.4) (0.4) Impact Wrestling
0.4 (0.4) (---) (0.4) (0.4) (0.3) (0.3) (0.4) Tamar & Vince
0.3 (0.2) (0.2) (0.2) (---) (0.3) (---) (---) The O'Reilly Factor