Hey guys! Horrorella here...
It looks like it's time to revist THE WAR OF THE ROSES. Fortunately, we're not looking at a remake of the 1989 film which starred Michael Douglas and Kathleen Turner. Rather, Deadline reports that Permut Presentations and Grey Eagle Films have plans to produce a sequel to the film, based off of THE WAR OF THE ROSES - THE CHILDREN - Warren Adler's follow-up to the original book.
The novel apparently tells the story of the Rose children (Josh and Evie), and the effect that their parents' turbulent marriage and disastrous divorce proceedings had on their outlook and relationships into adulthood. If we're being honest, these kids didn't have a chance in hell. After the monster truck and the chandelier battle, there isn't enough therapy in the world to undo the damage their parents had caused.
The film is in the early stages and is currently seeking a writer, but it sounds as though the story will continue the darkly comedic tone of its predecessor.
Here's the book synopsis, via Amazon:

Warren Adler's The War of the Roses leaped onto the public consciousness and has since remained an essential thread in a wider tapestry of divorce iconography. Now, Adler presents us with the chandelier-shattering legacy of Barbara and Jonathan Rose relived in their children Josh and Evie in a hilarious sequel to the original iconic tale about the perils of marriage, divorce and the destructive power of materialism.

Unlike the legendary Roses, Josh's marriage to Victoria should have all the qualities of an everlasting union. But when an innocent caper involving missing Milky Ways catapults out of control at their son's elite private school, the pair find themselves entering into a shattering warfare of a different kind. Armed with the emotional mayhem inherited from their parents, as well as compounded pressures involving a depraved headmaster, clandestine affairs and Victoria's male-hating mother, The War of the Roses – the Children presents a gripping story of the lengths to which parents will go to protect their children.

Little more than a child herself, Josh's ever sympathetic and over-stuffed sister Evie lavishes her 'food-is-love' obsession on her beloved niece and nephew coping with their own sense of loss. Meanwhile, Michael and Emily, soon-to-be children of divorce, orchestrate their own plan to keep their family together at all costs. Adler, once again, demonstrates his storytelling mastery by revealing the intricate blending of the past with the present, and how time unravels all things seemingly perfect to be darkly and even comically dysfunctional.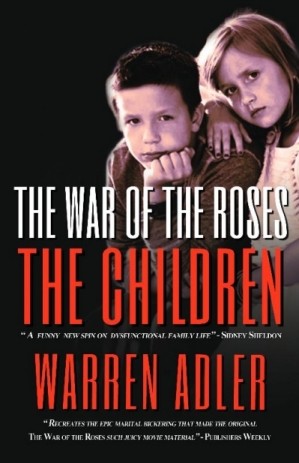 Follow me on Twitter