Movie News
Watch Stanley Tucci and Alice Eve get raw on each other in this trailer for SOME VELVET MORNING!
Papa Vinyard here, now here's a little somethin' for ya...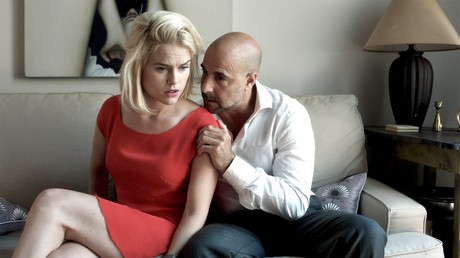 Yahoo has put up the trailer for Neil LaBute's most recent directorial outing, SOME VELVET MORNING. The film is entirely comprised of an extended conversation between ex-lovers, as the man claims he's left his wife for her. The problem is, they haven't seen each other for several years, and the woman may or may not be carrying on an affair with the man's son. Not like he cares that much. Stanley Tucci and Alice Eve are the only actors in the film, and they are tasked with maintaining the drama for the length of the picture solely using LaBute's trademark dialogue.
I actually got to see this film back at Tribeca, and I found it to be a great, powerful return to form for LaBute after directing those more mainstream(?) remakes of DEATH AT A FUNERAL and THE WICKER MAN. The trailer gets across the intimacy and the elusive nature of the drama, but it only barely hints at how intense things get between these two characters as the narrative progresses. Let's just say, if you remember how poisoned the relationships IN THE COMPANY OF MEN and YOUR FRIENDS & NEIGHBORS get, just think that this one doesn't even let these two damaged, vicious characters leave each other alone for the whole picture. Tucci and Eve are horribly brave with the choices they make as actors, and make for one riveting film that is, somehow and simply, far more cinematic and suspenseful than one would expect from the premise.
Obviously, this is more for a particular audience than any LaBute feature since maybe THE SHAPE OF THINGS (and even that was less brutal and cynical than this one), but the trailer does kind of give you an idea of what kind of flick you're in for, so if you dig where it may be heading, keep it on your radar. It's more intelligent, emotionally immersive, and impeccably acted than the many of the films you'll see in theaters this winter.
SOME VELVET MORNING arrives on VOD on December 10th, and in theaters on December 13th.
-Vincent Zahedi
"Papa Vinyard"
vincentzahedi@gmail.com
Follow Me On Twitter