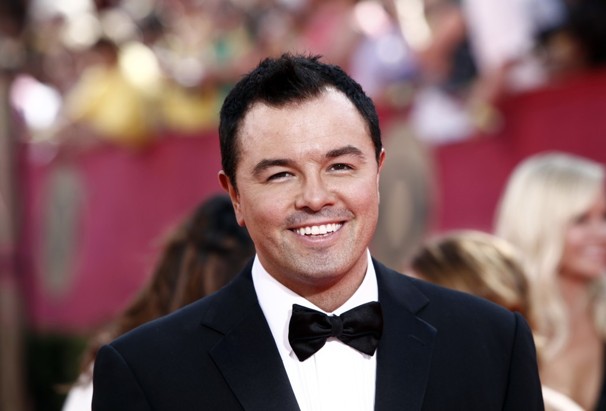 The latest McFarlane cartoon will delve into the lives of a U.S. border patrol agent and his Mexican-American neighbor.
This may sound like it's meant to replace MacFarlane's cancelled "The Cleveland Show," but it's probably meant to fill the timeslot currently held by "American Dad," which is moving to TBS next season.
Look! Press release!
FOX VISITS "BORDERTOWN" WITH 13-EPISODE ORDER

New Animated Comedy from FAMILY GUY's Mark Hentemann and Seth MacFarlane to Debut During 2014-2015 Season

FOX has picked up BORDERTOWN, a new animated comedy about two families living in a Southwest desert town on the U.S.-Mexico border, it was announced by Kevin Reilly, Chairman of Entertainment, Fox Broadcasting Company.

From Mark Hentemann and Seth MacFarlane (FAMILY GUY), BORDERTOWN will take a satirical look at the cultural shifts occurring throughout America. Set in a fictitious desert town near the Mexico border, the series centers on the intertwining daily lives of two neighbors: BUD BUCKWALD and ERNESTO GONZALES. Married and a father of three, Bud is a Border Patrol agent who feels threatened by the cultural changes that have transformed his neighborhood. Living next door to Bud is Ernesto, an industrious Mexican immigrant and father of four, who is proud to be making it in America. As Bud and Ernesto's paths begin to cross, their families become bound by friendship, romance and conflict.

The animated comedy is expected to debut during the 2014-2015 season.

BORDERTOWN is created and written by Mark Hentemann (FAMILY GUY). Hentemann and Seth MacFarlane (FAMILY GUY) serve as executive producers. Alex Carter (FAMILY GUY) and Dan Vebber (AMERICAN DAD, "Futurama") serve as co-executive producers. The series is produced by 20th Century Fox Television.