Papa Vinyard here, now here's a little somethin' for ya...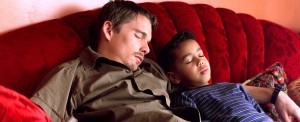 THE OTHERS/OPEN YOUR EYES (ABRE LOS OJOS) director Alejandro Amenabar scored a major victory when his Javier Bardem film THE SEA INSIDE won the Best Foreign Language Oscar in 2005, but, other than a largely-ignored Rachel Weisz film called AGORA, he's been largely absent from the scene since. Now, Deadline has announced Amenabar's return to America cinema with REGRESSION, a period suspense film which will star Ethan Hawke as a man suspected of sexually abusing his child in 1980 Minnesota. He can't remember the incident, so he works with a psychologist to try and figure out what actually happened, while reports of occult-related sacrifices pop up throughout the country. I wonder if the two have anything to with one another!
Although its slow-burn ghost horror is somewhat outdated in the post-SAW/PARANORMAL ACTIVITY era, THE OTHERS remains a thoroughly potent, haunting film, with a greater sense of atmosphere and impending dread than the large majority of scare-fests. I love the emotion-loaded, large-scale premise (fuck THE HOUSE OF THE DEVIL, these satanists have got the whole nation!), and it seems like this could be a great melding of Amenabar's highbrow, intimate leanings with his incredible sense of mood and tension. Add to that Ethan Hawke, who is quickly becoming one of the more dependable, bankable horror leads in the biz, and we're talking about one attractive-looking project.
Weinstein paid a large sum (somewhere in the realm of $5 or 6 million) for domestic distribution rights, so they know they very well might have something here. If the film can get the sort of box-office and awards recognition that THE HOURS pulled down, then they certainly will get their money's worth out of the film.
-Vincent Zahedi
"Papa Vinyard"
vincentzahedi@gmail.com
Follow Me On Twitter