Papa Vinyard here, now here's a little somethin' for ya...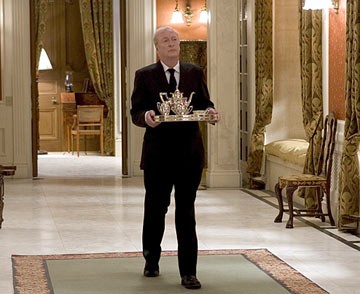 Ever wanted to see Samuel L. Jackson square off with Michael Caine? Well, now you can! According to THR, the two elderly pros are going to star together in NIGHTS IN RODANTE director George C. Wolfe's HARRY AND THE BUTLER. Caine will be playing the butler of the title, who is hired by Jackson's Harry when he finds himself inheriting a large amount of cash and decides to live just a little more luxuriously. AMISTAD vets Anthony Hopkins and Morgan Freeman were originally lined up to star in the main roles, but I can't say that the final combo doesn't sound more intriguing. The script, which is loosely based on an Academy Award-nominated 1962 movie from Denmark, was written by Damian F. Slattery, whose lone screen credit is on a 22-year-old Danish film entitled A DAY IN OCTOBER starring D.B. Sweeney.
Did anyone see THE SUNSET LIMITED? It was an HBO movie directed by Tommy Lee Jones and written by Cormac McCarthy that was comprised, simply, of Jones and Jackson in an apartment and having a long, intense discussion. Some critics found it tiresome; I thought it was riveting. If this film was just a collection of two-hander scenes with Jackson and Caine bickering around a house, I'm sure that would suffice, but I'm thinking that this film might delve into some issues of race and class that the two veterans could evoke perfectly. I mean, doesn't the idea of Samuel L. Jackson barking orders to Michael Caine while he begrudgingly obeys sound like awesome cinema?
They're aiming for a Spring '14 start date, so don't be surprised if you start hearing Academy/Festival award rumblings for the two iconic actors sometime in 2015.

The Sunset Limited - Teaser #1 (HBO) by Lyricis
-Vincent Zahedi
"Papa Vinyard"
vincentzahedi@gmail.com
Follow Me On Twitter