Papa Vinyard here, now here's a little somethin' for ya...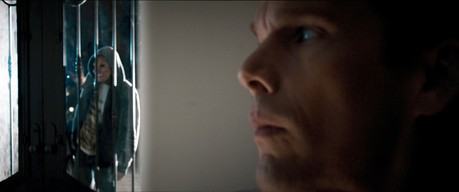 Variety has reported the news that James DeMonaco will return to his duties as writer and director for Universal and Blumhouse's THE PURGE sequel. Greenlighting the sequel was a no-brainer, due to the large grosses for the $3 million horror flick, but the mixed-to-negative reviews the film got left some doubt as to whether they'd keep DeMonaco around to continue the franchise. Hopefully, this time he can craft and execute a story that actually lives up to the provocative premise of the yearly PURGE, during which anyone can do whatever the fuck they want for 12 hours.
No word yet as to whether any of the surviving characters from the first film will return, but my guess would be that they'll focus on another house being "purged" this time around.
What do PURGE fans think? Are you happy that they're keeping DeMonaco around, or did you want some fresh blood to revamp this series?
-Vincent Zahedi
"Papa Vinyard"
vincentzahedi@gmail.com
Follow Me On Twitter