Hey guys! Horrorella here...
ADVENTURELAND co-stars Jesse Eisenberg and Kristen Stewart will be teaming up once again, according to THR. The two will be starring in the upcoming action comedy AMERICAN ULTRA from director Nima Nourizadeh (PROJECT X).
The story (being scripted by CHRONICLE scribe Max Landis) centers on "an unmotivated stoner named Mike (Eisenberg), who lives with his girlfriend Phoebe (Stewart) in a small, sleepy town. One night, their lives take an unexpected turn when Mike's past comes back to haunt him, and he becomes the target of a government operation set to wipe him out."
Producer Anthony Bergman promises it will be well worth your time:
"Simply put, American Ultra will be the most fun you can possibly have in a movie theater without the use of drugs, fireworks or canola oil"
That's a big promise, considering this film is coming from the guy who gave us PROJECT X, which was quite possibly the least amount of fun I've ever had in a theater. But maybe his follow-up will prove to be something different. The premise is interesting and makes it sound like it could be a fun story, and I'm curious to see Eisenberg and Stewart together again - particularly in these roles.
What do you guys think?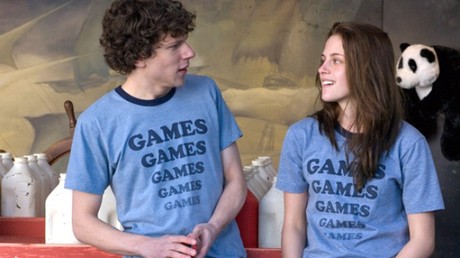 Follow me on Twitter