Papa Vinyard here, now here's a little somethin' for ya...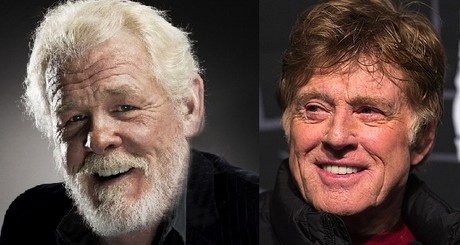 Above photo courtesy of Live For Films.
Larry Charles, the former SEINFELD director who made a name for himself directing BORAT and RELIGULOUS, is taking his first foray into non-improvised narrative film since the fascinatingly bonkers Bob Dylan flick MASKED AND ANONYMOUS back in '03. Deadline has reported that Charles will be directing aging screen icons Robert Redford and Nick Nolte in A WALK IN THE WOODS, based on the memoir by Bill Bryson. The book tells of Bryson's efforts to hike the Appalachian Trail (which passed by his house) with his buddy Stephen Katz. Redford's been attached to play Bryson since 2005, leaving Nolte the role of Katz, his estranged high-school chum and travel partner. Sounds like INTO THE WILD meets GRUMPY OLD MEN!
Charles has shown a gift for making shots that he clearly stole into theatrically-releasable cinema, but his fully-narrative efforts have yet to be well-received by either critics or audiences. THE DICTATOR, which desperately (and in vain) tried to have a coherent plot, was the worst-received of his collaborations with Sacha Baron Cohen, and MASKED AND ANONYMOUS, even with a stacked cast that included Jeff Bridges, John Goodman, Penelope Cruz, Jessica Lange, and tons more, was almost immediately forgotten by many (not me though…I like the cut of its gibberish). This seems like a project that is going into ALL IS LOST levels of intimacy and high drama, appropriate for the next picture starring Robert Redford. Chris Columbus, Barry Levinson, and Richard Linklater have been previously attached as directors, just to give you an idea of what kind of product they're aiming for here; I highly doubt Charles will be aping the styles of any of those directors, but I'm curious to see him try and meet them halfway from his own on-the-fly shooting style.
Says Charles of the material:
"Growing up in the wilds of Brooklyn, you can see why I was the natural choice to direct A Walk In The Woods. I didn't see a tree till I was 27. I've pitched a lot of projects, but I've never pitched a tent. But A Walk In The Woods is not merely about a hike. It is an epic, intense, absurd journey through our collective past, present and future. A journey outward and inward. A journey into darkness but also into the light. And I am honored and humbled to take that walk with Robert Redford and Nick Nolte. Two true bonafide icons of American cinema. Does anyone have bug spray?"
I do love the idea of Redford and Nolte holding down a movie together (I have not seen THE COMPANY YOU KEEP which features them both, so I'm unsure as to the amount of screentime they share), and I'm intrigued by both the premise and the real-life nature of the source material. The script was also written by increasingly-prolific screenwriter and Pixar alum Michael Arndt (is this why he couldn't rewrite his EPISODE VII script??), which means that the aimless meandering will probably be kept at a minimum (but hopefully not excised entirely). Plus, Charles will probably use his documentary skills to get some killer nature footage, so we're talking about some serious talent doing something both unconventional and rife with dramatic potential.
-Vincent Zahedi
"Papa Vinyard"
vincentzahedi@gmail.com
Follow Me On Twitter