Papa Vinyard here, now here's a little somethin' for ya...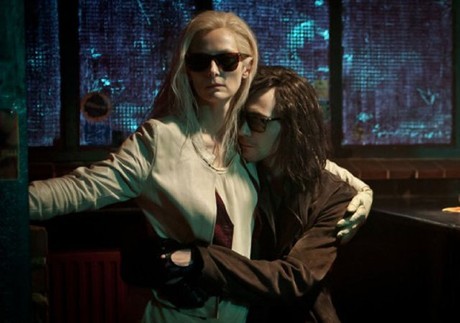 We have our first look at footage from Jim Jarmusch's upcoming vampire flick, ONLY LOVERS LEFT ALIVE, via this international trailer. I'm a sucker for Jarmusch; DEAD MAN is one of my favorite westerns, NIGHT ON EARTH and COFFEE AND CIGARETTES are two of my favorite anthology movies, and DOWN BY LOVE ranks right up there on my list of beloved prison flicks. Even his more impenetrable, oddball stuff like THE LIMITS OF CONTROL works like gangbusters on me. Him taking on the crowded vampire subgenre with this cast, which, besides leads Hiddleston and Swinton, also includes Anton Yelchin, Mia Wasikowska, Jeffrey Wright, and John Hurt, sounds like nothing less than a must-see.
As per course for Jarmusch, his latest flick has gotten mixed reviews, but those who responded favorably seem to really love it. His career might be more financially lucrative with unanimous critical appraisal, but I'd rather he not give a fuck about pleasing everybody, and continue to indulge his own deadpan, low-key cinematic style.
What do you guys think? Is this gonna go down as another hard-to-watch Jarmusch oddity, or does it have a chance for a mainstream (or at least indie circuit) breakthrough?

Μόνο Οι Εραστές Μένουν Ζωντανοί by Flixgr
ONLY LOVERS LEFT ALIVE will bite down sometime in 2014.
-Vincent Zahedi
"Papa Vinyard"
vincentzahedi@gmail.com
Follow Me On Twitter