Papa Vinyard here, now here's a little somethin' for ya...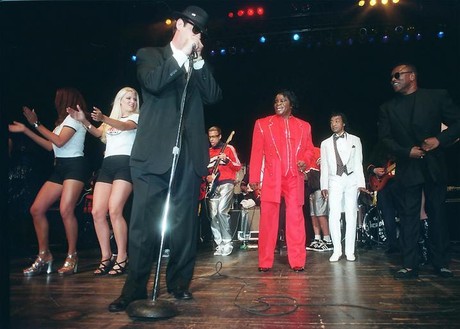 According to The Hollywood Reporter, Elwood Blues is, one again, going to pay homage to the church of Reverend Cleophus James. The legendary actor/SNL alum has joined Tate Taylor's James Brown biopic, GET ON UP, for a supporting role. Aykroyd will be playing Ben Bart, whose Universal Agencies served as Brown's representation for more than four decades. Aykroyd joins a growing cast, which also includes Viola Davis, Octavia Spencer, Lennie James, singer Jill Scott, and Chadwick Boseman as the Godfather of Soul.
These days, Aykroyd pops up here and there in stuff like THE CAMPAIGN and BEHIND THE CANDELABRA, but he spends as much time hawking his Crystal Head Vodka as much as he does anything else. Any appearance by the GHOSTBUSTERS/BLUES BROTHERS creator is a welcome one, and it's cool that, as someone who knew (and worked with) Brown personally, he will be part of this tribute to the immeasurably influential musician.
Can't wait for our first glimpse of Boseman in character!

THE OLD LANDMARK - JAMES BROWN IN THE BLUES... by happy-song
James Brown fans can GET ON UP on October 17th, 2014.
-Vincent Zahedi
"Papa Vinyard"
vincentzahedi@gmail.com
Follow Me On Twitter