Papa Vinyard here, now here's a little somethin' for ya...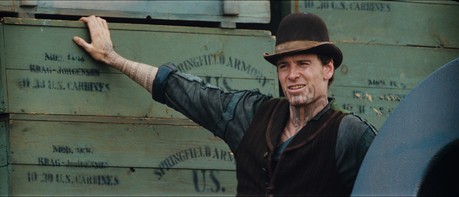 Jesus, this Fassbender fucker gets a lot of work! Variety reports that the ubiquitous actor, who currently has THE COUNSELOR and 12 YEARS A SLAVE playing in cinemas and X-MEN: DAYS OF FUTURE PAST and that Terence Malick movie in the can (not to mention MACBETH and ASSASSIN'S CREED in development), is in talks to serve as the leading man in freshman director Adam Smith's TRESPASS AGAINST US. He'll be playing the patriarch of a family of criminals who, as he goes on in the years, decides he wants to go legit. I'd imagine that the 36-year-old actor might need some old-age makeup to play the father of anyone old enough to order a beer (even in the U.K., where this'll be set), but who knows. Maybe he'll just rock it out with sheer talent. As long as he plays it with a little more nuance than he gave in his maybe not-quite-Razzie-level, but still considerably over-the-top performance in 12 YEARS A SLAVE.
A really cool aspect of this production is that Smith, who's directed several music videos and a concert movie entitled DON'T THINK for The Chemical Brothers, has gotten the electronic duo to provide the soundtrack for his film. Their previous foray into film score composition, with HANNAH, was killer, so I'm expecting another awesome score for this one. Now, let's see what British actors Smith hires to support Fassbender.
-Vincent Zahedi
"Papa Vinyard"
vincentzahedi@gmail.com
Follow Me On Twitter