Papa Vinyard here, now here's a little somethin' for ya...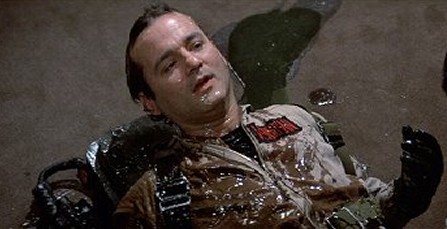 Halloween treat! Twitter exclusive: Bill Murray joins #BOO movie to bust some ghosts w @sethrogen & Melissa McCarthy! http://t.co/pLMwQYn66T

— DreamWorks Animation (@DWAnimation) October 31, 2013
With that, you can add Bill Murray to the growing voice cast of B.O.O.: BUREAU OF OTHERWORLDLY OPERATIONS, as well as Octavia Spencer and Jennifer Coolidge, who've also been announced. Murray will be provide the voice for a villainous spirit, described by Dreamworks as "the planet's greatest haunter," who fellow ghosts Rogen and Melissa McCarthy are tasked with taking down. Spencer will play their C.O., and Coolidge will voice a ditzy P.R. specialist.
Murray's droll voice, which has been used to good effect in FANTASTIC MR. FOX and (to a lesser extent) the GARFIELD movies, will be a welcome addition to the film, and the cast in general, which also includes Rashida Jones, is looking like an above-average one for Dreamworks. Flick's got a cute premise, and hopefully, it'll utilize the talents of Murray & Co. to make more of an impression than the similar R.I.P.D. (which I actually liked) did earlier this year.
But some of us are wondering: just what the hell do Dan Aykroyd and Harold Ramis think about this? Bill apparently doesn't have an aversion to ghost movies, just their ghost movie. Bummer for them, and perhaps an even bigger bummer for us. But at least we'll have this to look foward to, right? Right?!
-Vincent Zahedi
"Papa Vinyard"
vincentzahedi@gmail.com
Follow Me On Twitter