Papa Vinyard here, now here's a little somethin' for ya...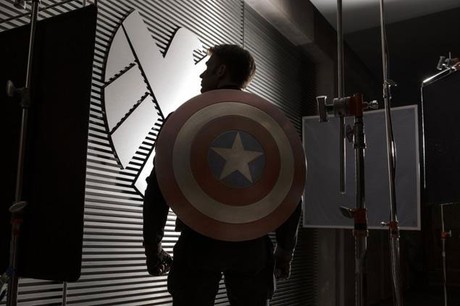 We've heard of two post-credit teases attached to THOR: THE DARK WORLD, but it looks like that's not the extent of Marvel's cross-promotional efforts. Apparently, there will be a 5-minute extended trailer for CAPTAIN AMERICA: THE WINTER SOLDIER playing just before the 3-D prints of next weekend's sequel. Disney's executive V.P. of distribution, Dave Hollis, let this news slip to Fandango:
"After MARVEL'S THE AVENGERS, the Marvel films are more interwoven than ever, and this pairing is the perfect complement to both of the new movies. THOR: THE DARK WORLD is going to be an exceptional theatergoing experience, and this sneak peek will really rev fans up for the return of not only the Mighty Avenger but the First Avenger as well."
While I've been dodging the current trailer that was released online last week, I'm a sucker for the in-theater teases Marvel gives us for these movies, so this just gets me more excited for next weekend. CAPTAIN AMERICA: THE FIRST AVENGER actually made slightly less than THOR domestically, so it's not like this could double the sequel's grosses or anything, but Cap'n certainly has at least some fans who will catch THE DARK WORLD just for this sneak peak. The question, from a business angle, is how many, but there is little doubt that pretty much everyone who shows up next weekend will be grateful for the glimpse at the next Marvel feature(s).
THOR: THE DARK WORLD grabs the hammer on November 8th, while CAPTAIN AMERICA: THE WINTER SOLDIER chucks its shield on April 4th, 2014.
-Vincent Zahedi
"Papa Vinyard"
vincentzahedi@gmail.com
Follow Me On Twitter