Papa Vinyard here, now here's a little somethin' for ya...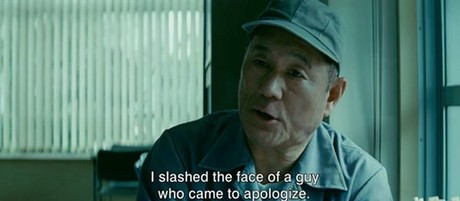 After a decade-plus break from making films about the yakuza, Takeshi "Beat" Kitano returned to the genre with 2010's OUTRAGE. I guess the experience was a successful one for the filmmaker (as well as a rare case where his character actually survives the film), because he's releasing his first sequel as a director with BEYOND OUTRAGE. We have the red-band U.S. trailer below, and it highlights Kitano's penchant for juxtaposing lovely, stylized imagery with sudden spurts of brutal, ugly violence. Kitano fans who've seen him use baseball as a theme throughout the years should get a kick out of his use of a batter's cage, and generally, the director's pitch-black, deadpan sense of humor seems to be on full display.
I mean, the trailer could look like ass, and it'd still be a Takeshi Kitano yakuza picture, which would be a must-see for me even if you told me he started doing stand-up comedy halfway through (Kitano made his bones as a TV comic).
What do you guys think? Does this look like it could rank with SONATINE, FIREWORKS, BROTHER, or even the first OUTRAGE?
BEYOND OUTRAGE plays baseball on VOD on November 28th, then in theaters on January 3rd, 2014.
-Vincent Zahedi
"Papa Vinyard"
vincentzahedi@gmail.com
Follow Me On Twitter