Papa Vinyard here, now here's a little somethin' for ya...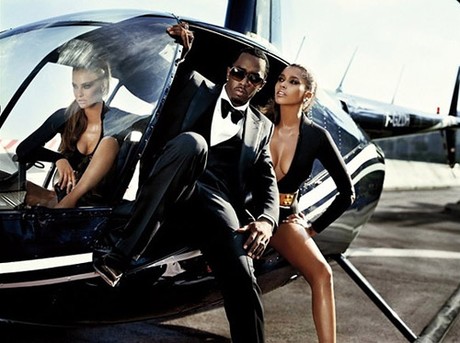 Sean Combs a.k.a. Puff Daddy a.k.a. Puffy a.k.a. P. Diddy a.k.a. Diddy has been acting in films for a while now since his strong debut as Ruiz the gangster in Jon Favreau's MADE. He was memorable in MONSTER'S BALL, many said he was the best part of GET HIM TO THE GREEK, and he'll be appearing in the upcoming MUPPET'S MOST WANTED in some capacity. Now, the New York Post has reported that Combs' next move as an actor will be to star in a self-produced remake of Abel Ferrara's KING OF NEW YORK. Their source is quoted thusly:
''Sean optioned the rights to remake 'King of New York' for two years. The film is a cult classic, and it will be great to remake it. Our version won't be exactly the same, but will have the same hard-core gangster feel. Sean wants to be in it, he was amazing in 'Monster's Ball', and such strong characters sit perfectly with him.''
While I'm fully aware of the near-ubiquitous worship of the film in the hip-hop community (where it and SCARFACE, with their images of self-made, ruthless millionaires, are something of an inspiration), I can't work up much hope for this project. The first one is such a product of its time and place that updating it screams of a vanity project, or even worse, a stab at increased cultural relevence. Not only did Ferrara's movie take place in a pre-Guiliani New York, filled with crime and potential danger at any corner, that simply does not exist anymore, but the cast he lined up was incredible, and filled with up-and-comers who had yet to reach the peaks of their popularity. Laurence Fishburne (still going by "Larry"), Steve Buscemi, Giancarlo Esposito, David Caruso, Wesley Snipes, Paul Calderon, and Harold Perrineau all made appearances in the film, not to mention Christopher Walken in his iconic turn as Frank White. Does Diddy think he can top Walken, let alone back himself up with a cast that stacked with talent? There's a reason none of these rappers have actually tried to remake SCARFACE yet; it's cause they know they ain't no Tony Montana, no matter how hard they try.
I mean, in reality, the true potential of the project will hinge on who Combs (as producer) lines up to direct this thing, but either way, I hope it dies on the vine. The first one's a classic, a one-of-a-kind gangster film, and I don't believe "rappifying" up the material is going to make it any better.
-Vincent Zahedi
"Papa Vinyard"
vincentzahedi@gmail.com
Follow Me On Twitter