Papa Vinyard here, now here's a little somethin' for ya...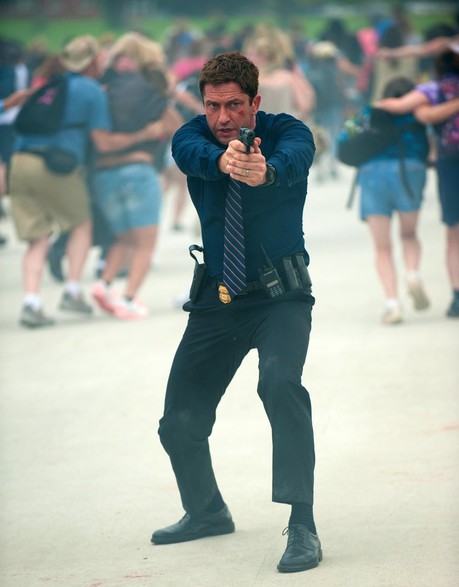 Given that OLYMPUS HAS FALLEN was a surprise hit this past March, opening at $30 million and scoring 161 mil worldwide, it's perhaps inevitable that its producers would want to DIE HARD/UNDER SIEGE it into its own franchise. Well, ScreenDaily.com has revealed that Nu Image will be shopping a sequel, entitled LONDON HAS FALLEN, to foreign buyers at American Film Market next week. Gerard Butler, Aaron Eckhart, and Morgan Freeman will reprise their roles as the heroic secret service agent, the U.S. president, and his Speaker of the House, respectively. Angela Bassett and Radha Mitchell are also expected to make return appearances. While the screenwriters of the original have also written the follow-up, I don't believe Antoine Fuqua will return to the director's chair, so don't be surprised if we hear that he's been ousted for a (cheaper?) replacement.
The plot will revolve around a terrorist plot scheduled to coincide with the funeral of the British Prime Minister, forcing the president (and his trusty Secret Service head) to once again spring into action. Also, an as-yet-uncast MI6 agent will play a central role in the proceedings. Whether they will be going more Clive Owen or Liam Hemsworth in their casting direction is yet to be seen.
I haven't seen the first film, but I heard it was a fun, if lightweight DIE HARD clone with some decent action beats. Maybe when this sequel starts coming around, I'll give OLYMPUS a shot. Who they sign to direct this thing will have a huge impact on both the quality of the film and my anticipation level for it, so keep your eyes peeled for an announcement in the coming weeks.
Now that we know this is comin', are we now to expect a WHITE HOUSE DOWN sequel next? Eh, probably not, but what would make you more excited LONDON HAS FALLEN or LONDON BRIDGE DOWN?
LONDON HAS FALLEN will start shooting next May for a 2015 release date (early Summer again? Worked once…).
-Vincent Zahedi
"Papa Vinyard"
vincentzahedi@gmail.com
Follow Me On Twitter