Papa Vinyard here, now here's a little somethin' for ya...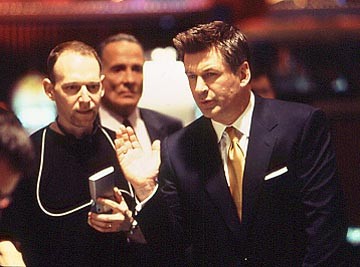 People may think that Alec Baldwin's career resurgence over the past decade is as much due to 30 ROCK as anything else, but us fans remember that he started getting taken seriously as a talent again with his performance in 2003's THE COOLER. The film got him an Oscar nom for Best Supporting, and dusted off a career that was getting cobwebbed with voice-over work and supporting parts in stuff like THE ADVENTURES OF PLUTO NASH and THE CAT IN THE HAT. According to The Hollywood Reporter, Baldwin's set to reteam with the director of that film, Wayne Kramer, on a noir based on Charlie Huston's novel CAUGHT STEALING.
Baldwin will play a crooked cop opposite Patrick Wilson's Hank Thompson, who finds himself in a world of trouble when he agrees to take care of a neighbor's cat and, unbeknownst to him, the mysterious key in the cat's carrier. Huston actually wrote a Thompson trilogy, of which Caught Stealing is the first entry, which he followed up with Six Bad Things and A Dangerous Man (unrelated to the Steven Seagal film, by my estimation). David Hayter (X-MEN, WATCHMEN, and, as we all know, the voice of Solid Snake) has written the script, and the project will be shopped around at the American Film Market in a little over a week.
Wilson has proven himself to be a dependable lead over the years, and I'm watering at the mouth to see Baldwin really dig into this material the way he did with his casino boss Shelly Kaplow back in '03. I'm a sucker for an interesting noir with a cool cast, and this is looking right up my alley (when I think "cat" and "noir", I think LONG GOODBYE...not a bad jumping-off point). Now, all we need is for Kramer to inject some of that RUNNING SCARED insanity into this one, and we'll definitely have something worth talking about...
-Vincent Zahedi
"Papa Vinyard"
vincentzahedi@gmail.com
Follow Me On Twitter