Papa Vinyard here, now here's a little somethin' for ya...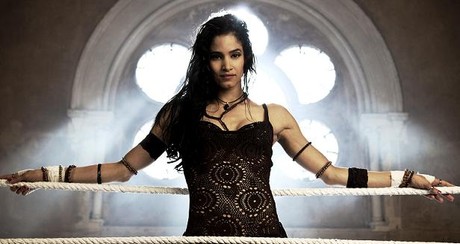 Shooting is currently underway on Matthew Vaughn's adaptation of Mark Millar's SECRET SERVICE, but it seems that the production's still tacking on cast members. Deadline has announced that dancer/model Sofia Boutella has signed on to play a henchman to Samuel L. Jackson's central villain, who may or may not be Dr. James Arnold from the comics. This would be Boutella's first credit on a feature film, but she's worked on several ad campaigns for Nike (see below), as well as being a background dancer for Madonna. She's also set to appear in MONSTERS: DARK CONTINENT, the sequel to Gareth Edwards 2010 film.
Her lack of experience could be an obstacle in exuding the kind of confidence an actress needs to properly play a femme fatale, but if Vaughn sees something in her, I'm willing to give her a chance. After all, he's the guy that brought Daniel Craig, Chloe Moretz, Aaron Taylor-Johnson, Charlie Cox, Zoe Kravitz, and Lyndsy Fonseca to our attention. I'm not saying she has the chops, but I am saying that Vaughn has an eye for talent, so don't be surprised if this first-timer has a presence onscreen.
What do fans of the comic think? Do you think Ms. Boutella can find a spot in Millar (and Vaughn's) world of thugs and super-spies?
SECRET SERVICE takes a bullet for you on November 14th, 2014.
-Vincent Zahedi
"Papa Vinyard"
vincentzahedi@gmail.com
Follow Me On Twitter