Ahoy, squirts! Quint here with today's Behind the Scenes Pic!
Oh, man, we're in the final stretch now! I've still got a ton of decorating to do before my Halloween party, but I'm so primed for my favorite holiday thanks to three weeks of continuous horror viewing and BTS pic posting that I'm just about ready to explode!
And boy do I have some great pics to count down the final few days. Let's start with a beautiful black and white shot of Boris Karloff getting his Imhotep makeup applied. I've seen many pictures of Jack Pierce and Boris Karloff together, but I've never seen this one until just a couple days ago and I just had to share it with you guys.
Below you'll see Pierce doing some fantastic detail work on Karloff's mummy hands. Thanks to Frank H. Woodward and the Practical Effects Group for the image! Enjoy!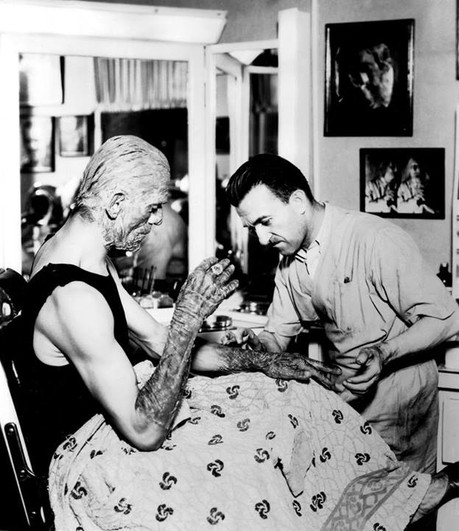 If you have a behind the scenes shot you'd like to submit to this column, you can email me at quint@aintitcool.com.
Tomorrow's pic, yoooooouuuuu bbbaaassstttaaaarrrddd.
-Quint
quint@aintitcool.com
Follow Me On Twitter
I've got a lot of maintenance work to do on the previous BTS articles, but you can visit two pages worth of images (beware of some broken links thanks to the last server shift): Click here for Page One and Click here for Page Two!