Papa Vinyard here, now here's a little somethin' for ya...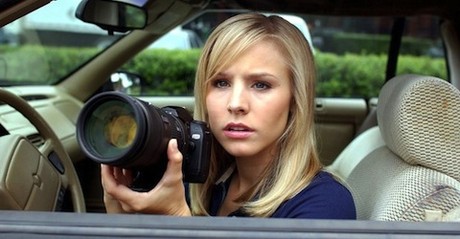 Were you miffed that by the end of the show's third season, Veronica Mars seemed to end up with Stosh "Piz Piznarski instead of longtime love interest Logan Echolls? Well, this featurette directly addresses those concerns, and reveals that the love triangle will play a crucial role in the plot of the upcoming VERONICA MARS feature film. I never really got into the show, but I can imagine that for many fans, this romantic element is a significant factor, and I'd say it was the right move to make these entanglements crucial to the film's plot. As for the footage itself, it looks pretty solid and just-above TV level, and we get some looks at the featured players, including Jerry O'Connell and Ken Marino. If nothing else, this video makes me want to go back and give the show another chance, which is probably the best-case-scenario for this featurette's effect on non-fans.
Also, Ryan Hansen looks pretty damn funny in the footage. How do you MARS fans rate his character in general?
VERONICA MARS starts a-snoopin' sometime in 2014.
-Vincent Zahedi
"Papa Vinyard"
vincentzahedi@gmail.com
Follow Me On Twitter