Papa Vinyard here, now here's a little somethin' for ya...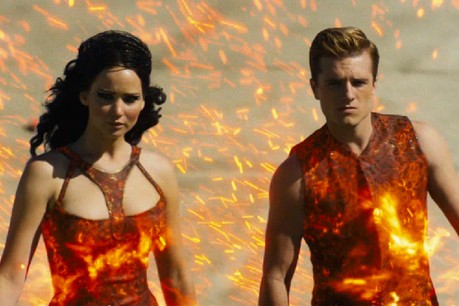 We have our final trailer for Francis Lawrence's first foray into the adventures of Katniss Everdeen, THE HUNGER GAMES: CATCHING FIRE, and with it, we get our first look at the latest incarnation of the titular games besides that opening aquatic sequence. It's looking as cool as ever; I'm thinking getting Lawrence to replace Gary Ross was a great idea, based on the increase in the level of visual quality of what we've seen so far. It also would seem that we're gonna see some crazy new creatures in the back half of the film, and they look appropriately freaky and menacing. Even with this new glimpse, there's still much of the film we have yet to see, and I'm curious to see how the final product shapes up, and whether it keeps the heat on this mega-franchise burning bright.
THE HUNGER GAMES: CATCHING FIRE goes against the tide on November 22nd.
-Vincent Zahedi
"Papa Vinyard"
vincentzahedi@gmail.com
Follow Me On Twitter