Hey guys! Horrorella here...
You probably know this story, but here it is anyway...
Back in the '60's two friends realized one of my dreams by adopting a lion cub and raising it in their London flat. Eventually, the lion (named Christian) became too big for the space and had to be reintroduced back into the wild. A year later, the friends journeyed to the Africa to see how Christian was getting along. They found that Christian not only remembered them, but was just excited to see them as they were to see him.
And the internet went wild with tears. The video of this reunion containing footage from the 1971 documentary A LION CALLED CHRISTIAN was a massive sensation on YouTube, generating a bizmillion hits and causing viewers all over the world to instantly fall in love with the story.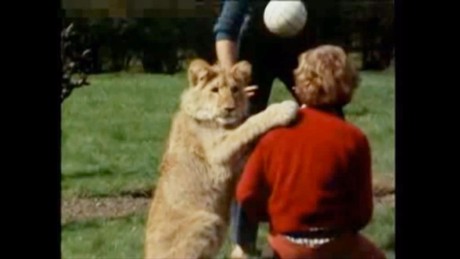 Neil Moritz is producing an adaptation of Christian's story, and the project has just brought a writer on board. THR reports that J. Mills Goodloe will pen the script for CHRISTIAN THE LION. Goodloe has a number of projects currently in development, including THE AGE OF ADALINE, which will star Blake Lively, and and adaptation of the Nicholas Sparks novel The Best of Me.
It's too early to say when this project will officially begin production, but I have no doubt that when it finally hits theaters, there won't be a dry eye in the house.
If you want to kill a few minutes and have a box of tissues handy, here's the video, with all the feels. Enjoy!
Follow me on Twitter