Hey Yo, Draven here.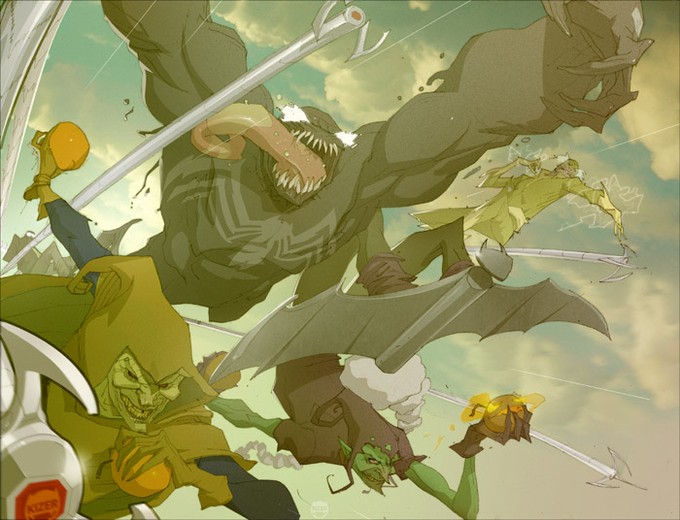 Coming Soon pointed us towards some interesting bits regarding THE AMAZING SPIDER-MAN 2. As has been speculated for quite a while it seems like they may be building towards a storyline involving THE SINISTER-SIX. We know that Curt Connors is still alive as The Lizard, Jamie Foxx is going to portraying Electro, Paul Giamatti is going to be The Rhino, Colm Feore will probably end up as The Vulture, and Chris Cooper is confirmed to be playing Norman Osborne who of course turns into The Green Goblin.
Now, the viral site for The Daily Bugle that has been set up for the film is possibly teasing a couple more villains. They are portraying the following article as having been written by journalist, Ned Reeds:
A trial date has been set in the New York Appellate Court for alleged bio-terrorist Dr. Curt Connors. The former Oscorp biogenetics scientist has been indicted on twenty city and state counts, including trespassing, malicious destruction of property, theft of private property, aggravated assault, and using a weapon of mass destruction.

Connors has pleaded "not guilty" to all counts. It is expected his defense attorney, Anne Weying, will claim Connors was not responsible for the actions of his genetically transformed alter ego, the Lizard.

Connors claimed that pressure placed on him by his employer, Oscorp, led him to rush his bio-restorative formula and test it on himself. He further stipulated to the grand jury that his decision to use the untested compound was made in an effort to protect the company from experimenting on innocent civilians, as directed by his superiors. Connors' immediate supervisor at Oscorp, Dr. Rajit Ratha, has been missing since the day before the Lizard's attack.

Oscorp spokesman, Donald Menken, responded, "We can't corroborate or deny Dr. Connor's claims. Dr. Ratha's abrupt departure from Oscorp has left us with far more questions than answers. Needless to say, Oscorp has always complied with the most stringent local, state and federal regulations for all of our research and development."
Coming Soon points out that in the comics Needs was revealed to have been behind the villainous Hobgoblin (although it was later revealed that he had been brainwashed and wasn't actually Hobgoblin). They also point out that the attorney mentioned, Anne Weying, was Eddie Brock's (a.k.a. Venom) ex-wife and at one point became She-Venom. They have more details so click the link in the first paragraph for more info.
Obviously this is all speculation and exactly what Sony and the filmmakers are hoping would happen when they set this viral site up. It doesn't mean that we are going to see Venom, She-Venom, or Hobgoblin in any of the three sequels but it is still fun to follow along and speculate. (Although I am sure Venom will show up at some point.)
What do you guys think? Are they going to be able to pull off The Sinister Six over the course of the next three films?
Follow me on Twitter here!