Papa Vinyard here, now here's a little somethin' for ya...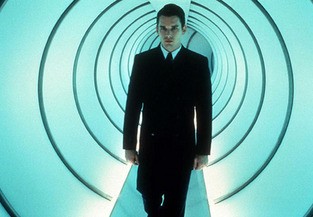 Andrew Niccol got off to an incredible start in his career, but has been floundering as of late. After breaking through with GATTACA and his script for THE TRUMAN SHOW, he's been slumming it with films like THE HOST and IN TIME in the past few years. He hasn't had a great movie since '05s LORD OF WAR. Well, hopefully reteaming with one of that film's co-stars will give his career (and reputation as a writer) the boost it needs, because Deadline has reported that he will be working with Ethan Hawke for his next project.
The film, which doesn't yet have a title, will have Hawke playing a fighter pilot who now makes a living flying drones out of a base in Las Vegas. The plot will deal with his emotionally-tasking job, which, even though he comes home to his wife and family after work, takes a toll on his psyche and sense of ethics. Sounds like the kind of moral examination that Niccol was making his bones for before he turned his focus onto youth-oriented fluff.
GATTACA, LORD OF WAR, and TRUMAN SHOW remain very potent examinations of various aspects of our contemporary culture (I have a soft spot for S1M0NE as well), and it excites me to no end to know that Niccol is tackling something relevant head-on again. He seems to have a strong working relationship with Hawke, who has often alternated between his heady activist work and acting, so it's good news for Niccol that his star power has given this project some traction. Now, let's just make sure they don't line up Selena Gomez to be his co-star (can we just agree that Julie Delpy should be in every Hawke movie? Would anyone really complain if that were the case?)...
-Vincent Zahedi
"Papa Vinyard"
vincentzahedi@gmail.com
Follow Me On Twitter