Ahoy, squirts! Quint here with today's Behind the Scenes Pic!
Yesterday I featured Amicus' The Skull, starring Peter Cushing and Christopher Lee. Today I have another Amicus title for you: Madhouse, starring another British horror icon, Mr. Vincent Price. Peter Cushing's in this one, too, but most people remember the crazy white and black makeup on Price.
This is one of those movies that is a horror film about making horror films, so in a weird way it'd pair very well with another Price classic: Theater of Blood. In both he plays an actor... in the former he's a horror actor recently released from a mental institution who may be confusing his fictitious reality with the real world and in the latter he's a theater performer who gets his revenge on critics who hated on his work.
Today we see Vincent Price being put into his Dr. Death makeup from Madhouse. Thanks to William Forsche for the shot. Enjoy!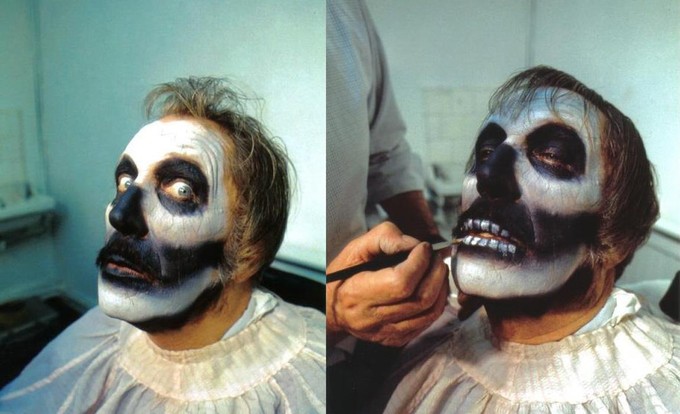 If you have a behind the scenes shot you'd like to submit to this column, you can email me at quint@aintitcool.com.
Darn, darn, darn! What'll I use for tomorrow's pic?
-Quint
quint@aintitcool.com
Follow Me On Twitter
I've got a lot of maintenance work to do on the previous BTS articles, but you can visit two pages worth of images (beware of some broken links thanks to the last server shift): Click here for Page One and Click here for Page Two!